This is a rare find. The bag borders excellent condition but it has a few spots on the top which keep me from classifying it as such. As you can see from our first photo, this bag came with the original "Coach Bag" of promotional goodies these bags came with in the 70's. [See first photo- bag hanging from Artist statute, contents spread out around bag] The goodies included the Coach registration card, instructions on care, and some promotional material for other Coach products and the 1977 publication "The Factory". [ see more below on The Factory]. Aside from the spots on top which almost appear to be part of the manufactured bag itself, this bag is in excellent condition.
This is Coach's 'Classic Shoulder Bag' also known as the 'Classic Pouch' No 9170 when it was introduced by Coach in 1972. Coach has reintroduced this bag in celebration of its 75th anniversary as 'Saddle Bag 23' . This is what Coach is saying about this vintage pouch when promoting its new saddle bag:"
When we first introduced our original No. 9170 Classic Pouch bag in 1972, its simple functionality and timeless design made it an overnight classic. Today, we've reimagined it in luxuriously refined glove-tanned leather with a soft leather lining and contrast edge painting for a playful pop of color. You'll find a special Storypatch inside noting that this Spring 2016 style was created in celebration of our upcoming 75th anniversary." [ http://www.coach.com/coach-designer-crossbody-saddle-bag-23-in-glovetanned-leather/37875.html?cgid=women-handbags-saddle-bag&dwvar_color=DKEUX ]
You can purchase the new bag for $395 to $550 or you can have the real thing by purchasing this bag for less than half the price.
It is my opinion the color of this bag is Mocha but others may see it differently. So if you think it's some other color please check the colors and decide for yourself. I have included the Coach color chart in the second photo of our listing. I also have a Coach Classic Shoulder Bag in Tabac if you are interested in the same bag in a different color. [
https://www.etsy.com/listing/251643793/coach-classic-shoulder-bag-tabac?
]ref=shop_home_active_14 This particular bag was made in the 1970's in New York City. Registration No. 091-0113. I don't have the catalog 1977 but the 1981 catalog describes this bag very succinctly:
No. 9170
Classic Shoulder Bag.....$82 [ equivalent to $223 in 2015 making our price a bargain...]
The original Coach Bag. Simplest of unlined pouches with a minimum of hardware. Inside zipper compartment and another extra compartment under the flap. Adjusting buckles are solid brass. All ten colors are shown on page three. (We show all 10 colors in the collage in photo five above.)
Dimensions:
Length: 10"
Width: 4"
Height: 9"
Strap drop: 16" to 18"
This bag is in very good condition. It has no rips, tears or holes and, therefore, is structurally sound. As I noted above the bag borders excellent condition but it has a few spots on the top which keep me from classifying it as such. These spots on top are odd and they may be spots reflecting the leather dye from the factory. They are certainly not ball point pen marks but if they are from a pen it would have been from a dripping fountain pen. I have used the text function on my photo editor to point these spots out. Please look carefully at the collage for the photos of the spots. If you want a larger version you can ask me for additional photos or you can right click on the collage photo, download it and blow it up with your viewer]
When I look at this bag I think of an early American Pioneer. I see him treking across the Great Plains dressed in leather clothing and wearing a coon skin cap with a powder horn in his belt. This bag is hanging at his side holding the extra powder and shot he will need for his journey. You might think of something else when you see this bag but whatever you think I believe you will agree this is certainly a classic leather bag that will attract the attention of all who see it.
This Coach leather bag is one of the most sought after Coach products by collectors because it is a "New York City Bag". These are some of the highest quality Coach products. "New York City" bags were made in the original Coach factory in New York City that operated from the late 1960's through the mid 1980's. Consequently, they are disappearing at an alarming rate and when you buy a New York City Coach bag you are buying more than an accessory, you are making a potential investment.
THE FACTORY
This bag was made in the NYC Coach Factory which means it is in the class of the most sought after vintage Coach bags. Coach no longer produces bags in the U.S.A. and the Factory is gone. The quality of the bags manufactured at the Coach NYC factory and the skills of the leather workers who produced them was memorialized in a book released in 1977 entitled "The Factory". My copy is lying next to this bag but is not for sale. You can see from the Coach catalog listing in the collage (photo #5 above) that a copy of this publication was offered for sale by Coach in 1981 for $2. Here are some excerpts from 'The Factory':
"The factory occupies two floors of a 12 story building in downtown New York City and employs about 125 members of the Pocketbook and Novelty Workers Union Local No. 1 AFL-CIO. It is the Coach Leatherware factory, and the people who work here make bags and belts out of leather and brass.
**********************************************************************************
Looking around the factory, out of town visitors are always struck by its rich ethnic mix. Like a microcosm of the City itself, every race, creed and national origin seems to be represented. In addition to 2nd generation New Yorkers, both black and white, there are Italians and those of Italian descent, Poles and those of Polish descent; likewise, Germans, Hungarians, Lithuanians, and Russians - as well as Cubans, Puerto Ricans, Dominicans, and a number of other Hispanics from Central and South America.
***********************************************************************************
Here in New York City we have recruited workers from what is undoubtedly the world's largest pool of skilled labor, and this has enabled us, over the years, to choose from the best in each category.
************************************************************************************
"The leather goods industry is a highly competitive one. If Coach bags and belts have enjoyed a certain success in this field, it is precisely because they are made in New York City by those people whose skill, energy and quick intelligence make it possible to turn out a quality product at a fair price. [ The Factory: Portrait of a Leathergoods Factory in Downtown New York City; Pictures by Jeremy Lezin- Words by Miles Cahn; July 1977]
If you prefer a different style vintage bag, I have many in stock and you can see it at my shop at
https://www.etsy.com/shop/ProVintageGear
Learn more about the shop and process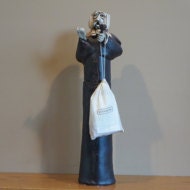 Greg Gibbs
Football Days Sale Coach Classic Shoulder Bag -Mocha Brown Leatherware - Made in New York City U.S.A.- Vgc
---
Overview
Vintage item from the 1970s
Materials:

Supple mocha Glove tanned leather, solid brass adjusting buckles, adjustable leather strap, Coach New York City Bag, interior zippered pocket, exterior slip pocket under flap, also known as a Coach flap bag, smart phone pouches inside or outside, 10 inches L x 9 inches H x 4 inches W, Original hang tag, Original Coach goody bag included

Ships worldwide from

United States

Feedback: 197 reviews
Favorited by: 21 people
Listed on Nov 14, 2016
377 views