Ghurka bags are unique high end quality bags handmade in the U.S.A.. If you are interested in this bag and not familiar with Ghurka, please read up on Ghurka bags to learn about their quality and reputation by starting with the links below this description.
This is a Ghurka Marley Hodgson Chestnut Leather No. 9 "The Runabout" Registration No. F 3848 - Circa 1983 . This bag was the 3,848th style "No. 9 Runabout" handcrafted by Ghurka in 1983. Every Ghurka bag is carefully identified by a coded by style number and name, year of production and the number where the particular bag fell in production. [ Link here to the Ghurka website for an explanation of their coding system. http://www.ghurka.com/our-heritage/bag-numbering-coding ]
This is a versatile bag that can serve as either an every day bag, a business tote, or an evening bag. It has multiple interior compartments with zipper closures and leather sleeves to hold writing utensils. This bag is perfect for a lawyer, professor, realtor or an executive.
This is how Ghurka describes its attache:
Ghurka's first handbag for women, No. 9 was introduced in 1975 alongside our original styles. A must have for the female Ghurka collector, as this bag can be taken from day to evening seamlessly. Made of khaki twill and dark tan saddle leather, several compartments and full size pockets and longer handles somehow reflect the very feminine yet resourceful and self-reliant women it was designed for.
Product Specifications
Registration #: F 3848
Year of production: 1983
14" x 3" x 10"
You can purchase the 1792nd Marley Hodgson Chestnut Leather No. 9 "The Runabout" from Ghurka's website in what appears to be the same condition as the bag we are offering right now for $1095.00 by linking to this url: http://www.ghurka.com/runabout-no-9-vintage-d1792
When you arrive you will see it's the same bag as the one we have listed. Ours 'may' have a few more flaws, but quite frankly I don't think so. The differences I see [ and it's hard to see everything because Ghurka does not offer as many angles and photos as we do ] are that the handles are darkened on our bag while they are not on Ghurka's vintage bag. The other flaw our bag has is there 'may' be more scuffs and scratches on our bag but in my mind the difference is not significant enough to warrant paying Ghurka the $1095 they are asking as opposed to the $389.00 we are asking.
Condition: This bag is in very good to excellent condition for a 33 year old bag. It has no rips, tears or holes. It is structurally sound. It does have some scuffs and scratches on the chestnut leather but those can be addressed and removed with a product known as Leather CPR if you don't like them. I use this product regularly but have not used it on this bag as I know there are collectors who may be interested in this bag who might use different products or methods to address scuffs and scratches. The balance of the bag is in great condition. The inside is in excellent condition. The khaki canvas is clean and free of rips, holes or tears.
About Ghurka bags:
This is what Ghurka has to say about the materials and process they use for their bags:
Our Leather
Ghurka leather is never pretreated to remove any flaws, we must begin by using the most naturally flawless hides available. While we utilize a variety of leather types based on which is best suited to a particular product, the majority of our goods are made from French calfskin. Calfskin has a finer grain and softer feel than traditional cowhide as the younger age of the animal brings less exposure to the harsh elements, the main cause of imperfection. French calfskin in particular is considered the finest in the world due to the fact that farms in France do not use barbed wire, one of the leading causes of mars and scratches. As no two skins are completely alike, each and every handcrafted leather Ghurka product will have an individual character that adds to its unique patina as it ages.
The Stitching
We use an extra-thick spun nylon that should never snap or fray, and all of our craftsmen ensure that each and every piece is stitched to our exacting standards. A careful review of any two parts of a Ghurka leather luggage piece will reveal exactly the same number of stitches per inch, a requirement for anything that leaves our workshop. The placement of these stitches is equally exact, precisely laid out to the millimeter to ensure that every bit of leather is assembled to last a lifetime.
The Brass
Brass is the only metal we've found that offers the strength, durability, and reliability that have become our hallmark. Every single piece of our hardware - from zippers, buckles, and hooks to the smallest of snaps and rivets are made solely from this rugged and beautiful material. A great deal of time and expense has been invested in perfecting our brass zippers. Every single tooth is individually machined and polished to ensure flawless operation after years of continuous use. And since all of our leather briefcase and leather travel bag hardware is solid brass and never plated, it too will develop a unique character and patina as it ages alongside our famous leather.
The Process
Since our founding, Ghurka has set out to manufacture the highest handcrafted leather goods available in the U.S. This has always begun with using only the finest hides in the world. While there are endless varieties of leather available, only a handful pass the rigorous selection process required to bear the Ghurka medallion. Likewise, our signature solid brass hardware and trademark stitching process ensure that our bags deliver an paralleled owner experience and lifetime of use.
About the Ghurka company:
The name Ghurka was taken from the Ghurka soldiers of the Himalayas who since the days of the British Raj, according to the Ghurka website, have been known throughout the world for their bravery, loyalty, and cheerful indifference to all difficulty. The Company founder, Marley Hodgson, came up with the idea of starting a company creating handmade leather bags and naming it Ghurka after attending an antiquities auction in the 1970's and bidding on gear made for Ghurka regimental officers stationed in India in the early 1900's. According to the Ghurka website, Marley Hodgson was Inspired by the rugged elegance and workmanship of the 75-year-old leather and created the Ghurka leather company to make similar bags. http://www.ghurka.com/our-heritage/about-ghurka
If you like this vintage Ghurka bag and want to see similar leather products from Ghurka, Coach, Hartmann, and other reputable manufacturers at a fraction of the original cost, please visit our shop ProVintageGear at:
https://www.etsy.com/shop/ProVintageGear
Learn more about the shop and process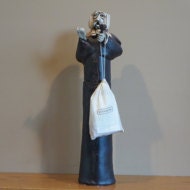 Greg Gibbs
Football Days Sale Ghurka Marley Hodgson Chestnut Leather No. 9 "The Runabout" Registration No. F 3848- Circa 1983 -Handmade U.S.A.- Great
---
Overview
Vintage item from the 1980s
Materials:

French calfskin leather trim, Rabbit ear handles, khaki twill body and lining, multiple pockets with zipper closures, interior pen and pencil sleeves, Brass feet to protect bottom from wear, solid brass hardware, 14 inches Long by, 3 inches Wide by 10 inches High

Ships worldwide from

United States

Feedback: 197 reviews
Favorited by: 24 people
Listed on Nov 15, 2016
364 views