The Gilded Journey ~Nurturing The Artist Within is and inspirational book written by clinical psychologist Anne Freund, Ph.D. Along with suggestions for personal growth and self-exploration Dr. Freund encourages you to make time and space for your own creativity and talents. Cynthia Shaffer's beautiful photography and vision provide the perfect pairing with the insights in the is book.

Talented Artists Rita Reade, Jen Crossley, Karla Nathan, Robin Dudley-Howes, Lorri Scott, Nellie Wortman, Cynthia Shaffer and Terri Brush have contributed special projects for you to create. Their genius and creativity are the perfect muses to inspire you own creative talents and designs. Explore you own joie de vivre!

"The mutual effort of Anne and Cynthia have brought forth a cache of gorgeous imagery, while Anne's gentle prompts invite thoughtful insights that can help each of us grow wings. Enjoy this wonderful journey... you are in for a magical ride!" - Anna Corba

Descriptions:
160 pages
Hardbound cover
8.5" x 11"
Photography by Cynthia Shaffer and contributors
Forward by Anna Corba

Chapter 1: Let There be Light
Project: Chandelier Prism Necklace by Rita Reade

Chapter 2: Weathered and Worn
Project: Vintage Camera Book by Jen Crossley

Chapter 3: Not All Who Wander Are Lost
Project: Travel Journal by Karla Nathan

Chapter 4: Viva La France
Project: Embellished Tassel by Robin Dudley-Howes

Chapter 5: Beauty is in the Eye of the Beholder
Project: Gypsy Boho Swing Shirt by Lorri Scott

Chapter 6: Angels are Among Us
Project: Angel Collage by Nellie Wortman

Chapter 7: Nature's Muses
Project: Nature Art Quilt by Cynthia Shaffer

Chapter 8: Carpe Diem
Project: Timeless Treasured Heart Necklace by Terri Brush

Please join us on this creative journey!
Learn more about the shop and process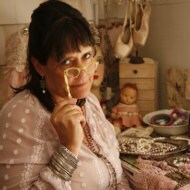 Anne Freund
The Gilded Journey ~Nurturing the Artist Within book and tutorials by Anne Freund and Cynthia Shaffer
---
Listed on Feb 19, 2017
2053 views