This is a rare NYC Coach Metropolitan Style Briefcase or Attache. The Coach Creed has the 'Leatherware' logo under COACH. The creed states the case was made in New York City U.S.A. and assigns registration number 229-8634.
In my experience, a Metropolitan Style New York City Bag is a unique item. Most of the briefcases from the N.Y.C. era in the market today are the older 'Brief Bag Style' briefcases with double brass turn lock closures and two small storage pouches immediately under the flap over cover followed by a large long compartment. ( Our shop has sold 3 Brief Bags, see
https://www.etsy.com/transaction/1028574654?
) )While there are many Metropolitan style Briefcases on the market today, most of such vintage cases on the market were manufactured outside of New York City.
I have Coach Catalogs from 1981 through 2003 and the earliest listing I can find for the Metropolitan is in the 1987 Coach Holiday Edition Catalog which has this listing :
"Number 5180. 'Metropolitan Brief Bag. $222 ( equivalent to $471 in 2015 dollars due to inflation)
This handsome legal size case is a favorite choice among men and woman who shop our coach stores. They find its size perfect for business needs and its features ideal for travel or commuting. It has a roomy interior, a full length outside back pocket for newspapers and often used files, a gusseted pocket under the flap for bulky items, and an inside drop pocket for small items. The shoulder strap detaches, in the solid brass buckles tuck away neatly inside. Dimensions 16 inches by 11 inches by two and a half inches
Black, British tan, burgundy, flannel grey, mocha, Navy, Tabac"
[See photo #5 Collage for the actual listing]
Condition:
This briefcase is in good condition. The bag is structurally sound. No rips, tears, or holes. The back, bottom, and beading of the case have some major scuffs and scratches. These scuffs and scratches are typical of a case as old as this case and all one need do is read the Coach emblem stating , scars, scratches and wrinkles are a natural characteristic of these vintage pieces to realize these are not out of the ordinary and simply enhance that aspect of the case. Leather is supple and a beautiful Black.
This is perfect for the lawyer, professor or accountant who seeks to enhance their seasoned background with vintage gear. Something a shiny new briefcase cannot do.
THE FACTORY
This bag was made in the NYC Coach Factory which means it is in the class of the most sought after vintage Coach bags. Coach no longer produces bags in the U.S.A. and the Factory is gone. The quality of the bags manufactured at the Coach NYC factory and the skills of the leather workers who produced them was memorialized in a book released in 1977 entitled "The Factory". My copy is lying next to this bag but is not for sale. You can see from the Coach catalog listing in the collage (photo #5 above) that a copy of this publication was offered for sale by Coach in 1981 for $2. Here are some excerpts from 'The Factory':
"The factory occupies two floors of a 12 story building in downtown New York City and employs about 125 members of the Pocketbook and Novelty Workers Union Local No. 1 AFL-CIO. It is the Coach Leatherware factory, and the people who work here make bags and belts out of leather and brass.
**********************************************************************************
Looking around the factory, out of town visitors are always struck by its rich ethnic mix. Like a microcosm of the City itself, every race, creed and national origin seems to be represented. In addition to 2nd generation New Yorkers, both black and white, there are Italians and those of Italian descent, Poles and those of Polish descent; likewise, Germans, Hungarians, Lithuanians, and Russians - as well as Cubans, Puerto Ricans, Dominicans, and a number of other Hispanics from Central and South America.
***********************************************************************************
Here in New York City we have recruited workers from what is undoubtedly the world's largest pool of skilled labor, and this has enabled us, over the years, to choose from the best in each category.
***********************************************************************************
"The leather goods industry is a highly competitive one. If Coach bags and belts have enjoyed a certain success in this field, it is precisely because they are made in New York City by those people whose skill, energy and quick intelligence make it possible to turn out a quality product at a fair price. [ The Factory: Portrait of a Leathergoods Factory in Downtown New York City; Pictures by Jeremy Lezin- Words by Miles Cahn; July 1977]
We have several other Coach Metropolitan Style Briefcases that were not manufactured in NYC as well. Please check our site by linking to the address below for current stock and future stock.
If you like this vintage Coach bag and want to see similar leather products from Coach and other reputable manufacturers at a fraction of the original cost, please visit our shop ProVintageGear at:
https://www.etsy.com/shop/ProVintageGear
Learn more about the shop and process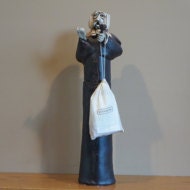 Greg Gibbs
Football Days Sale Coach Rare NYC Metropolitan Black Leather Briefcase Attache Laptop Ipad Carrier- Made At The Factory In New York City- U.
---
Overview
Vintage item from the 1980s
Materials:

Supple black glove tanned leather, full length outside back pocket, 16 inches by 11 inches by two and half inches, detachable shoulder strap, gusseted pocket under the flap, solid brass hardware, solid brass turn lock, registration number 229 8634, legal size dimensions, IPad case, laptop case

Ships worldwide from

United States

Feedback: 197 reviews
Favorited by: 10 people
Listed on Jan 2, 2017
243 views