2 FREE GIFTS -- For a limited time only, the guides "50 Marketing Strategies for Etsy SUCCESS" and "The Dirty Dozen - Etsy Errors to Avoid for Success" are included!

•·.·´`·.·•·.·´`·.·•·.·´`·.·•·.·´`·.·• •·.·´`·.·•·.·´`·.·•·.
The Etsy Better Business Guide is unlike any other business guide currently on the market. With degrees in business and journalism, I have brought the best of both worlds together to create the ULTIMATE Etsy Success Guide. I am also a tried and true Etsyian who suffered through zero sales and low views. Initially, I simply expected the sales to 'roll in' and it took me a few months to master the intricacies of Etsy.

I have spent hours scouring the Internet, interviewing business experts and top-selling Etsy shop owners as well. I know EXACTLY what works on Etsy and I know EXACTLY what does not work. I have wasted so much time and immense resources on 'trial and error'. I wrote 'The Etsy Better Business Guide' to help others mirror my success. It is concise, to the point and easy to understand so that you can FAST TRACK your Etsy shop for success.

Why waste time trying to figure out what works on your own? Or waste money on tactics that simply do not work? Having a successful shop on Etsy is an achievable goal. All it takes is some clever marketing and promotional strategies to drive traffic right to your Etsy shop.

It can be hard and discouraging setting up your Etsy shop on your own with little or no experience selling online. But there is good news! You don't have to have a Degree in Business to have a shop on Etsy.

All you need is the Etsy Better Business Guide to show you the way to find success on Etsy.

Some of the topics covered in the guide include:

-Perfecting Your Shop Name
-Research, Research, Research
-Setting Up Shop
-How to write attractive descriptions and optimize tags.
-Getting in the Zone
-Phenomenal Photography
-A Fine Tooth Comb
-Advertising 101
-How to Snag a Treasury and WHY it really is a TREASURE!
-NetWorlding for Success
-Shipping & Handling
- The Books
-The Directory – links to online resources that will help you drive traffic to your Etsy shop for FREE, or in some cases, a small fee!

...............and much, much more!

Stop complaining about zero or slow sales and start cultivating sales with your own two hands!


'The Etsy Better Business Guide' is a custom fit for anyone just starting up on Etsy or who have been around for a while with little or no sales. It does not matter if you are an international customer, living in the UK, Australia or someone residing in the USA. The guide resonates with a global audience.

•·.·´`·.·•·.·´`·.·•·.·´`·.·•·.·´`·.·• •·.·´`·.·•·.·´`·.·•·.
Just one of MANY testimonials (see my feedback for more!)

Amazing information & very helpful. It had a lot of ideas that were innovative. The business guide gives a great perspective on how to run a successful Etsy business. The 2 free gifts are also a nice extra. ~FlyingFig

•·.·´`·.·•·.·´`·.·•·.·´`·.·•·.·´`·.·• •·.·´`·.·•·.·´`·.·•·.

All of my Etsy guides will pay for themselves once your sales start rolling in, so purchase this business investment with confidence!

•·.·´`·.·•·.·´`·.·•·.·´`·.·•·.·´`·.·••·.·´`·.·•·.·´`·.·•·.·Once your payment clears the guides will be emailed to you within 24 hours.

Happy Reading! :-) And most importantly….."Happy Sales!

¸.¤°´¯`´¯`°¤. .¤°´¯`´¯`°¤.¸ ¸.¤°´¯`´¯`°¤. .¤°´¯`´¯`°¤.¸

Some of my past customers have shops featuring the handmade arts of candle or soap making, art, jewelry or pendant design, wool, knit or crochet and some simply deal in supplies, beads, findings, kawaii, cabochon, steam punk, goth, wood working, letterpress card or products like baby goods, maternity wear, hair bows, embroidery, skin care, logo graphic design, etched glass or the amazing world of vintage goods. Some have even stocked their shops with delectable cupcakes, chocolate, cookies, jam, bread and more! So, no matter what you sell the 'Etsy Better Business Guide' will be a perfect fit!

¸.¤°´¯`´¯`°¤. .¤°´¯`´¯`°¤.¸ ¸.¤°´¯`´¯`°¤. .¤°´¯`´¯`°¤.¸

Need a custom banner? Anyone who makes a purchase from 'The Buzz' gets 10% off my 'Etsy Branding Package'.

International buyers are welcome!

-Unaffiliated with Etsy Inc.
Meet
the

owner

of

TheBuzz Learn more about the shop and process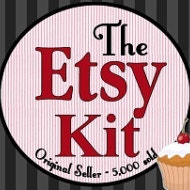 The Buzz
2,000 sold- The ORIGINAL Etsy Success Guide -------
---
Overview
Material:

business degree

Ships worldwide from

United States

Feedback: 8230 reviews