This is the large version of our memory quilt. It is approximately 3 square feet, 12 personalized custom squares and one large portrait square.

When my beloved Basset hound, Copper, passed away, I needed an alternative to the traditional cremation memorial. I just didn't want to have her on my shelf in a factory-created urn. She was a special spirit who deserved a unique and vibrant memorial. As I stared at 'her' cupboard, where we kept her bandannas, leashes and toys, I began to see the solution.

Instead of just throwing out or recycling her things, I decided to preserve the precious memories attached to them by working them into a memory quilt to display on my wall. This is how Beloved Buddy Memory Quilts was born.

We offer two sizes of quilts- Large (approx. 3 sq ft) and Small (approx 1 sq ft). I work closely with you, the pet owner, to come up with appropriate designs for your pet. Did your dog love riding in your red Prius with her ears in the wind? Let's make a square to capture that memory. Was your cat obsessed with watching the birds while lounging on his special blue cushion? Send me a swatch from that cushion, and it will go right into the quilt.

Because each quilt is so personal, I like to 'get to know' your beloved buddy and portray their spirit in the quilt. Once payment is received, I will email you an informational packet. Included are a questionnaire, my mailing address (for sending your mementos), and additional information about our company. After I receive your questionnaire back, please allow 4-6 weeks to receive your quilt. I may contact you via email with any further questions I may have when creating your memorial. I will also inform you when I've mailed your piece, so you can know when to expect it.

Visit me on Facebook (Beloved Buddy Memory Quilts) for more photos/details. Thanks!
Learn more about the shop and process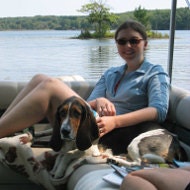 Amy Marotz
Listed on May 4, 2016
511 views