This item sold on February 15, 2015.
Every handwoven panel is completely original and unique using percentage gradation hand dyeing.
I first woven all three panels all white. Then after I mixed more than forty-five colors using a process called percentage gradation dyeing in a transition from brown to turquoise to a dark navy blue. I laid all three panels next to each other and painted my composition. After washing and drying the weavings I cut out all the weft, retied each thread on my loom and rewove each piece in turquoise. These were all woven in a twill wave pattern.
I installed this piece for a gallery show I recently had pictured. I first measure 2 " from the wall to hang any of my panels. I believe it is best for the woven panels to have some breathing room and not be hung straight up on the wall like a painting. The three panels are hung next to each other with the middle panel about 4" to 6" in front of the side panels and about 2" to 4" overlapping the sides of the side panels. Depending on your space you can install them just like this or next to each other with more space between each panel.
There is a 2" sleeve at the top and bottom of each panel where a 1/4" round metal rod is placed. Each panel is hung from the ceiling using strew hooks and small monofilament fishing line strung through the top of each panel two inches from both ends. The monofilament is strung through the panel and under the metal rod. It is best to have two separate pieces of monofilament each attached to its own hook instead of one piece of monofilament and or one hook. This creates an unbalanced teater totter affect.
The metal rod placed through the sleeve at the bottom gives the woven panel some tension. After installing it is best to steam iron if you see any wrinkles.
Size: 100" wide x 56 1/4" long x 6" deep Each panel is 35" wide by 56 1/4" long
Thank you for taking the time to look through my work. Please check out my website at debbiebarrettjones.com for more images and information.
********* And if you are interested in a smaller more intimate piece check out
billysuetextiles.etsy.com
where I sell my handwoven scarves and shawls. ********
Learn more about the shop and process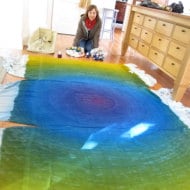 Debbie Barrett-Jones Textiles
Listed on Feb 15, 2015
1937 views