For Sale
Is one of our unique and exclusive hand crafted medieval reproduction carvings. This is a cast replica produced from a mould taken directly from the original carving found within Ely Cathedral, England. We are the only company in the UK to take moulds from original medieval carvings from within the Cathedrals of England and to then reproduce them for sale.
These reproductions are cast from a resin composite and then stained to give the product all the fine detail, feel and authenticity of the original carving.


Green Man-Skull.
Taken from the medieval (1350) carvings that are found upon the highly decorated Misericords and supports within the choir stalls at Ely Cathedral. This carving shows another depiction of the legendry pagan image of the Green Man. This most interesting portrait shows the Green Man as being a human skull, seen with the classic foliage around the head but most differently being that of an image of death. The Green Man symbolises the eternal cycle of life from one generation to the next through birth to death and then carried on in the next generation and has close associations with nature, the natural elements and Mother Nature. This carving is set to remind us that we are all mortal beings with death a close certainty; this would have been most prominent in the medieval period where life was very hard and full of uncertainties. This replica is taken directly from the original and replicates all the fine detail and work done by the craftsmen that carved this great piece centuries ago. Designed to display upon a wall this makes a magnificent focal point. Comes with a hanging fixture and product label.
Size 18cm Diameter.
Learn more about the shop and process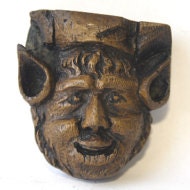 Philip Youle
Green Man Skull Wall Plaque.
---