Here is a handcrafted Maple/Walnut laminated sanding block. It is completely functional, but as beautiful as these things came out, I personally hate to scratch them up putting them to work! Instead I believe they'll make a great gift for the craftsman to put on display with his (or her) collection for showing off their interest or craft. However you prefer to them to work, that's fine too!

Hand made by me, I affectionately call these my hundred dollar sanding blocks, because if I multiplied the time I invested in each one times the rate of pay at my day job, they'd easily cost even more than that. However I couldn't possibly ask that much for them and still sleep at night, so I won't! The maple and walnut are laminated together and positioned so the contrasting wood colors leave a striking impression as soon as you see them. Hand-sanded and covered with 3 coats of high-gloss polyurethane (hand sanded between each coat), these sanding blocks are as much a piece of art as they are a tool.

Product Detail:
Condition: Brand New & Never Used (Hand made by Me)
Wood: Maple & Walnut
Wood Finish: Natural coloring, high-gloss polyurethane

Although multiple sanding blocks are shown in the photos so you can see them from various angles, this sale is for one sanding block. If you're interested in more than one let me know.
Learn more about the shop and process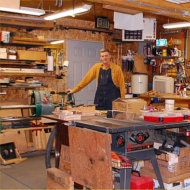 Dave Herrmann
Handcrafted Maple and Walnut Sanding Block
Listed on Sep 6, 2016
1698 views