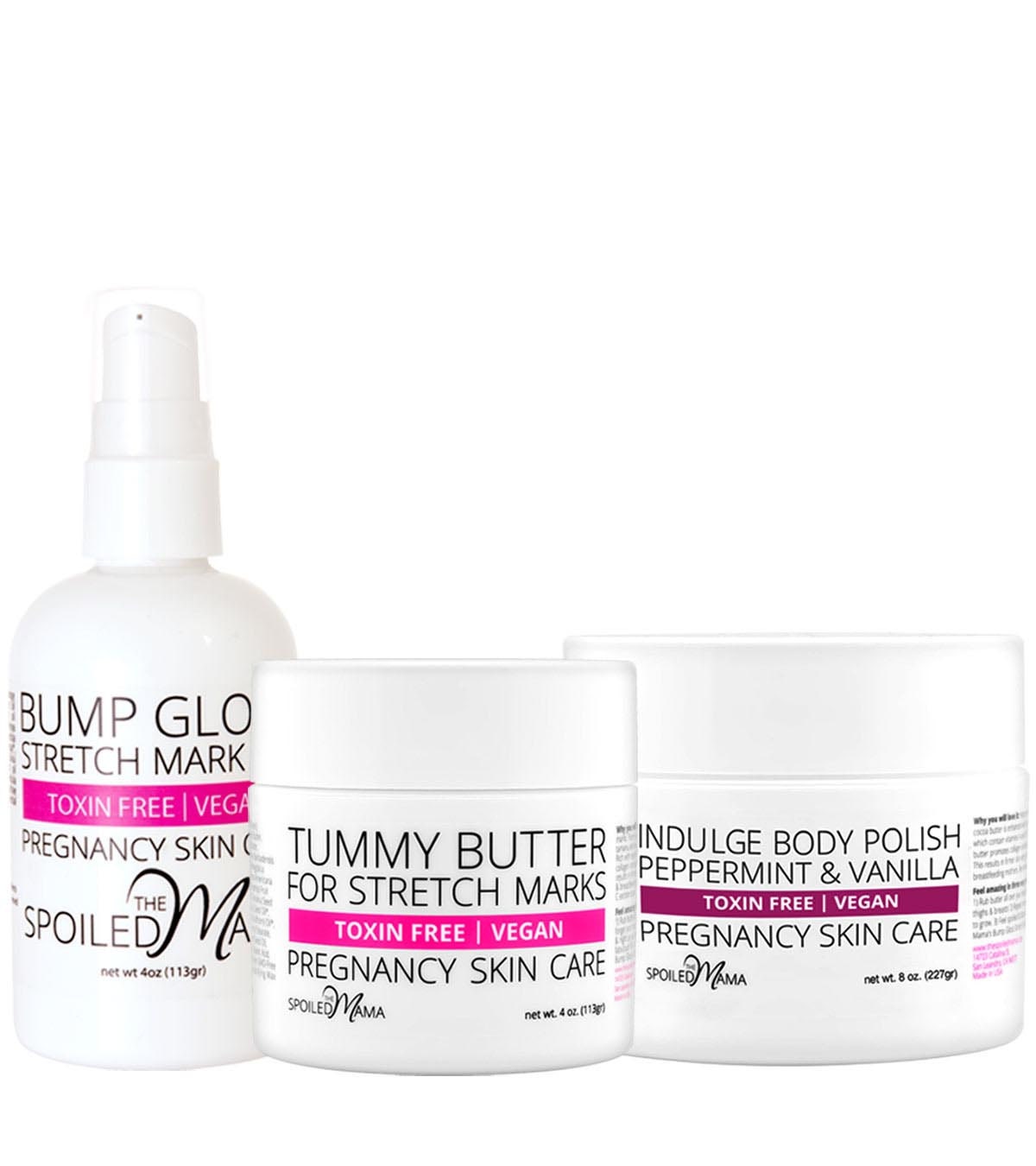 Why you will Love it: Say "NO" to stretch marks! We have bundled our best-selling stretch mark products into a special gift for YOU! Exfoliate, hydrate and bring out your inner glow with this bundle of savings.

Your pregnancy bundle includes:
8 oz. Indulge Exfoliating Body Polish
4 oz. Tummy Butter for Stretch Marks
4 oz. Bump Gloss Stretch Mark Oil

What it's used for: For Maximum Stretch Mark Prevention, our Tummy Butter and Bump Gloss are recommended to be used together (each contain ingredients proven to help aid in stretch mark prevention during pregnancy and the fading of C-section scars and postpartum stretch marks). Indulge Body Polish can be applied alone or with any of the Spoiled Mama products.

Directions for Use: We recommend using Bump Gloss in the morning, after your shower or bath while still wet. Tummy Butter should be applied in the afternoon, evening or both to your hips, thighs, tummy and breasts. To really spoil yourself; Use small dollop of Indulge in a circular fashion for gentle exfoliation. You can use with fingertips or with cloth, rinse off with warm water. Simply pat skin dry and follow with Bump Gloss or Tummy Butter

Apply more often as your tummy begins to grow and stretch. Tummy Butter & Bump Gloss are safe for use during pregnancy and while breastfeeding. *Apply oil outside of shower/bath- can make shower floor slippery.Use special care while breastfeeding and do not place this product directly on your nipple area.

TIP: Make sure that when applying any oil or butter, you do so with a gentle massage type motion. The 'massaging' is what will bring blood flow to the surface and this will help aid in stretch mark prevention. If you are working with older scars or stretch marks, this product and vitamins listed will not be as effective in improving stretch mark and scar appearance.
Stretch Mark Prevention Trio
---