Special Fall Price
THINK OUTSIDE THE BOX, This is a great MEMORY BOX, KEEPSAKE HOLDER, STEAMPUNK THEME.
DAVID COPPERFIELD was once a slide holder. It opens on one end to reveal three drawers. Each drawer pulls out easily, and would be a great jewelry box, or whatever you had in mind. The original bakelight handle is still intact, and it measures 11 1/2" x 6 1/2" x 9" high. I have used hand made papers, copper leaf under the acrylic paint, along with rhinestones to give this little vintage case new life, and a new name. As you can see, I have even taken care to cover the bottom, and as with all my cases and purses, the back has been hand signed, the inside has my original satin label and comes with my hand tag.
This would also be great as a jewelry box. Certainly ONE-OF-A-KIND.
DAVID COPPERFIELD
Very pleased to be a featured artist in the treasury:
http://www.etsy.com/treasury/4d4f5609a6d98eefad3b1eef/hot-copper#4d4f70cdb5ab8eef79094a66
Shipping is 20.00 Canada & 25.00 in the US.
Out of country, please email for shipping cost.
***
These pieces are what I like to call, 'Funtional Art', meant to be used. I collect vintage pieces from the 1920's - 1960's, to redesign. ('Ebony & Ivory' is the only one that is not vintage, I just liked the shape.)
Then I revamp these vintage train cases, as well as my VINTAGE BOX PURSES, inside and out. The outside is done in the same method as I use on my abstracts, using hand made papers, and either Gold, Silver or Copper leaf. The insides are re-lined, using either quilted satin, crushed or regular velvet, and sometimes fun fur, as I did in my 'Paris Blues' train case, and they all have my satin 'Debras Originals' label. Some have keys, and some do not.
***
Now just as I name my canvas art pieces, these are named as well. They are one of a kind, 'ORIGINALS', and I have signed the back of each one. There is litteraly no way, any two could be alike.
***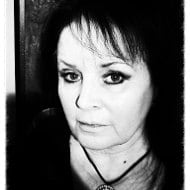 Debra Blades
SPECIAL PRICE...RE-Vamped Vintage Slide Holder One-Of-A-Kind, Copper Leaf Collage
Listed on Oct 13, 2015
883 views