This sweater is a version of the Missy sweater, just with an added hood on it. It is made of a cotton\/poly blend and is super soft and cozy. Perfect fall sweater!

COLOR OPTIONS:
BLACK
BROWN (PICTURED)*SOLD OUT*
NAVY BLUE
RED
ASH WHITE (GREY)
PURPLE

Comes in sizes: S, M, L and XL.

**Please specify size and color when ordering**

Small
lenght-23"
shoulder-shoulder-15.5"
Chest-34"

Medium
lenth-24"
shoulder-shoulder-16.5"
chest-36"

Large
lenth-25
shoulder-shoulder-18.5"
Chest-38"

X-Large
Length-26"
Shoulder-Shoulder-20"
Chest-40"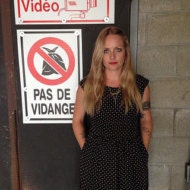 Shanna Flodstrom
Listed on Oct 28, 2009
2677 views