Bridgett was not even aware that she had not moved a teeny tiny bit for about a minute. Therefore, she could not realize of how strange that was. You see, she was the kind of person that taps one foot when sitting, plays with her cofee spoon or curls a strand of hair on her index finger as she speaks. She had been told she kept on masticating in her sleep, even. So, that total stillness was very, very rare in her. After a while, she just hugged her handbag and decided to keep moving. She suspiciously felt this feeling of lightness and shortness of breath, that, despite all, was not unpleasant at all. She had not been quite aware of what had just happened, she just knew that the intensity of that very light pink on the sky of a Mucha painting was one of the most beautiful things she had ever witnessed.

This drawing is based on a picture by Ali (http://www.alilovescurtis.blogspot.com/) , and you can see it in the awesome Flickr pool "Braid Wednesday".

Limited collection of 25 prints.
Meet
the

owner

of

nosideup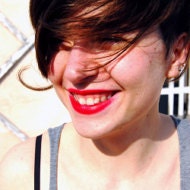 Maria Gil Ulldemolins
Listed on Jul 28, 2010
3635 views