OIL PORTRAIT OF ONE PET
FULL BODY
On stretched 16 x 20 Canvas

2 canvas styles...regular canvas or Deep Profile Gallery Wrap.
2 painting styles...studio backdrop or full scene


Painted in high quality oils.

CANVAS STYLE CHOICES :

REGULAR CANVAS
REGULAR CANVAS, 3/4" inch depth,
This is a 16" x 20" cotton canvas with 3/4" depth along the sides.
This choice is best if you wish to eventually have your painting framed.

DEEP PROFILE GALLERY WRAP
DEEP PROFILE 1 1/2" depth
This is a 16" x 20" cotton canvas with sides that measure 1 1/2" in depth.
The canvases are wrapped around and the painting continues around all sides. You can also choose
to have the edges painted black or any other solid color. (just let me know!)
These modern canvases are designed to hang without a frame.


BACKGROUND STYLE CHOICES:

STUDIO
The "STUDIO" option means the painting will be a kind of classic photography studio style background. (an example: the beagle and the black and white cocker spaniel in picture 2).

SCENE
The "SCENE" option means that the background could be a painting all on its own. This could be a landscape, a seascape, or an interior or inside view like a fireplace, favorite chair, blanket, toys...etc.
This option takes up to 2 weeks longer to complete. (if you need a painting in a hurry, make sure you have allowed enough time!)


So...if you want a painting focusing on just your pet with a lovely backdrop in the background...on a deep profile canvas you would choose:

"STUDIO deep profile "

If you want a more elaborate background on a regular canvas you would choose:

" SCENE reg canvas"


I HOPE THIS ISN'T TOO CONFUSING...FEEL FREE TO CONTACT ME WITH ANY QUESTIONS!
_________________________________________________________________________________________

PHOTOGRAPHING YOUR PET

1.) Use natural light. The light from a doorway or window is nice. A flash will often upset your pet and make it impossible to take more than one photo.

2.) Get down on your pet's level. (Unless you deliberately want to have distortion...like the head being bigger than the body) This goes for toddlers and babies as well!

3.)Focus on the eye. It should be the central point of your frame.

4.) Know your pet. Does it have a favorite toy? Blanket? or bone?

5.) Remember, the most important part of the pet is its face! The body is secondary.


Send your photos for consideration.

Happy to coordinate your decor with colors that will work for you.
Looking forward to seeing what you come up with!

NOTE: if you would like to buy one as a gift for someone and do not have a photo available, you may give a special golden ticket gift certificate!
That way the painting can be of their favorite photo-- and not a weird, blurry photo you secretly snapped with your cell phone!

Allow 4-6 weeks for delivery.
Learn more about the shop and process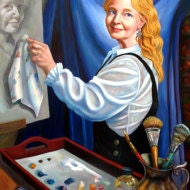 Nettie Kaye Williams
PET PORTRAIT 16 x 20 Oil on canvas original custom art
---
Listed on Apr 14, 2017
309 views