Average Dimensions:

Bead Size: 40 mm long, 12 mm diameter
Strand Length: 15.5 inches (40 centimeters)

Please examine the photos carefully. We have made every attempt to get as close to the color as possible, but different monitors do interpret these colors differently. And, you will notice that the sizes of the beads do vary from strand to strand. Flaws, hairline cracks and uneven finishing is part of this handmade process.

Click on the zoom option for larger images.

Visit our Etsy store for more beads and other tribal jewelry and textiles!
___________________________________

Tibetan Dzi Beads

Naturally occuring in agates that show many different designs and patterns when cut, dzi (dzee) beads, have great spiritual significance for Tibetans. Ancient dzi beads are valued at thousands of dollars, but new beads like the ones in this strand also enjoy a following of those who like both the geometric patterns and tribal look. These beads have been hand carved out of agates or jade, covered in porcelain, stained and baked.

My Dzi (mydzi.blogspot.com) is an excellent resource for those interested in the history of dzi beads and offers illustrations to help identify both provenance and symbolism referenced in the many beads offered on the market. This particular strand has what is known as the "Nine Eye Pattern". My Dzi says the following about this design:

"Builds up a lenient and caring heart for you, helps you gain fame and benefits. Increases the owner's wealth. 9 Eye is one of the most sought after, believed to represent the 9 planetary systems and its essence. This Dzi is touted as a window to wisdom.

The 9-Eyed Dzi bead endows the wearer to expand his intelligence and wisdom. This type of Dzi bead is also well documented in modern Asian circles for its "mysticism" and "power" by several people who wore them and survived near death experiences. This bead is often considered the unofficial wealth bead.

The 9 eye Dzi bead may assist the owner of this bead to become rolling in wealth. The wealth will be gained through one's own work. This bead attracts attention and assists in causing fame to increase. The nine eyed Dzi assists the entrepreneur in finding their ideas and strengths. The nine eyed Dzi bead assists its owner to Gather Wealth, Achieve Good Health, Success, Gain Power, Compassion, Glory, and Expelling Evil & Acts as a Protector.

It is believed that the 9 eye Dzi bead is able assist its owner in achieving the Nine-fold Merits. The Nine-fold merits are compassion, glory, everlasting brightness, fame, dignity, authority, control, reputation and the removal of obstacles. Accumulation of meritorious virtue, increases compassionate, separates from suffering and gains advantage. Gathering the Nine-fold Merits, ensuring the growth in compassion, power and glory thus bringing about immense benefits."

So, there you go! A great bead to lead us all on to the path of success, wisdom and compassion. Aside from all that, this large bead makes a great focal piece and can also be used as a button in bags or purses.

_______________________________

Afghan Tribal Arts specializes in handcut, unpolished beads from Afghanistan and the region. Working with artisans directly in the Peshawar region, your purchase helps support small workshops who work in traditions established over centuries in the Silk Road. Afghanistan has great wealth in its natural resources, including an endless variety of semi-precious stones. Unpolished stones take in the oils of the skin with wear and develop a deep patina over time.

Recognizing that these strands are more expensive than the dyed and commercial stones that flood the market these days, we encourage our customers to think of buying with other friends and splitting the strands or to buy quantity in order to save on shipping. Free shipping on orders over $100.

Follow us on Facebook! Type in Afghan Tribal Arts in the search bar or copy and paste our address: http:\/\/www.facebook.com\/inbox\/?drop&ref=mb#\/pages\/Afghan-Tribal-Arts\/171170801454?ref=ts

Free shipping on all purchases over $100.
All sales on Etsy are in USD.
Learn more about the shop and process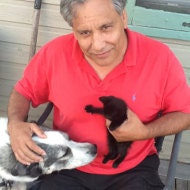 Abdul Wardak
Tibetan Dzi Bead Strand, 9 Eye Design, 40 mm long, Porcelain on Agate
Overview
Materials:

agate, porcelain

Ships worldwide from

United States

Feedback: 265 reviews
Favorited by: 40 people
Listed on Sep 7, 2016
1469 views