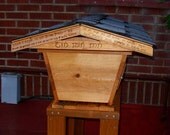 Sorry, this item sold.
Top Bar Bee Hive - Golden Mean proportions
Ask a question
Overview
Materials:

wood, fir, pine, nails, plexiglas

Only ships within

United States

.
Feedback: 454 reviews
Favorited by: 1 person
This shop accepts Etsy gift cards
Item details

Reviews (454)

reviews

Shipping & Policies
Materials:

wood, fir, pine, nails, plexiglas

Only ships within

United States

.
Favorited by: 1 person
This shop accepts Etsy gift cards
Ask a question
These hives are hand-crafted on demand, so please allow 4-6 weeks for completion (likely faster, but we never know). We will deliver to the greater Portland, Oregon\/SW Washington area, free of charge, so if you are in this area please contact us for an adjusted invoice before purchasing, or expect the shipping price to be refunded shortly.

Top Bar Hives are a natural way to keep bees, where the bees are allowed to draw out their own comb to the size and amount they need for their current purposes. Since the wax is never recycled, there's no transmission of fungi or viruses in the wax...and once you've filtered out the honey, you get to keep the wax to use for your own candlemaking or cosmetic use! Or you can offer the wax bits back to the bees for the ultimate in natural recycling!

These particular hives are deeper and shorter front-back than the standard Top Bar hives. The bees respond to these proportions with increased honey production!

Not really suitable for large-scale honey operations, these hives are perfect for the backyard farmer or hobby beekeeper who just wants one or two hives, or for someone who isn't sure where to start with beekeeping. Each hive has an observation window to allow the keeper to check up on the inner workings of the hive without having to suit up and disturb the bees. Harvest is easy, and doesn't require any special equipment or extractors. Some top-bar keepers don't even use protective clothing (we do), most don't use smoke. Depending on regulations in your city, these hives are easy to place even in urban back yards.

Hives are built out of bee-friendly soft and hard woods, using as much salvage wood as possible, with no glue, sealants, paint, or chemicals. Bees will naturally seal the tiny cracks where the wood joins with their own "bee glue" - propolis, which has antibiotic and antifungal properties.

Bars (edged with beeswax to provide a guide for the bees) and "false back" included for use in varying the inside volume of the hive (can be seen in the picture with the observation window open). If the bees don't fill the hive entirely before winter, you can move the "false back" in close to the last built comb to reduce the amount of area the bees have to keep warm. You can also use it when you install your new swarm to encourage the bees to build brood closer to the front, by fooling them into thinking they have a smaller hive available than they really do.

**ROOF NOT INCLUDED**. You can use a large sheet of plywood or even plexiglas as a roof (it's merely to keep the lid covering the bars dry, see picture). If you want one like the peaked and shingled one shown, it's $100 and sturdy as all get-out. Ventilated on both ends to prevent its use as a nesting place by earwigs and other little critters. Simpler roofs available; prices vary.

**STAND NOT INCLUDED** It's recommended that you elevate the hive off the ground to keep it from getting too cold and wet and to provide adequate ventilation. Height of the elevation is not important; cinder blocks or 2x4's work fine. For best results with getting the bees to draw straight combs and make your honey harvest easier, make sure to level the hive front-back and side-side when setting it up.

If you wish, lettering or designs can be woodburned into the front or sides of the hive, across the roof brace, or on the observation window. Unless the design requested is particularly complex, this is free of charge.

Hope it goes without saying but BEES NOT INCLUDED. Bees can be purchased online, and from local bee supply houses. In the spring and early summer, wild swarms may also be available. This is the time of year to be thinking about getting onto a waiting list at a bee supply! Additional suggestions and directions about where to find out all you need to know also included if requested!