THIS IS AN OLD VINTAGE OIL LAMP WITH A CHARM OF ITS OWN. IT'S OIL BASIN IN A PRETTY EMERALD GREEN AND SPEAKS FOR ITSELF - WITH ITS CHISELED DIAMOND PATTERNS, SET IN ALTERNATING MULTIPLE ROWS OF LARGER AND THEN, SMALLER SHAPES.

THE LIP TO THE OIL BASIN - WHERE THE LITTLE ORIGINAL BURNER SCREWS ON - IS PERFECT WITH NO CHIPS OR CRACKS. THE METAL BASIN SHOWS NORMAL WEAR FROM DECADES OF PAST USE BUT IS IN FINE WORKING CONDITION. THE WICK ADJUSTOR KNOB TURNS FREELY. THE LAMP REQUIRES A 1/2" WICK IF YOU INTEND TO BURN OIL FOR LIGHT WITH THE LAMP. ON THE 'ROUND' OF THE KNOB IS STAMPED, "MADE IN HONG KONG". THERE ARE NO MARKINGS ON ANY OTHER AREAS OF THE LAMP.

THE TOTAL HEIGHT OF THIS PRETTY LAMP IS 13". ITS METAL BASE MEASURES 3-3/4" DIAMETER WITH THE WIDEST AREA OF THE OIL BASIN MEASURING 4" DIAMETER. THE METAL BASE IS OLD, ORIGINAL AND SHOWS SOME MINOR DISCOLORATION AND VARIATION OR AGE SPOTS, ALL DUE TO NORMAL AGEING. THE BASE IS BASICALLY, IN MY OPINION, IN VERY GOOD CONDITION. THERE IS NO 'YUK' FACTOR. HOWEVER IF YOU WANTED TO PZAZZ IT UP, I'VE SEEN SOME OF THESE WITH THE BASE PAINTED IN GOLD LEAF. (Note: The plant and pot shown in one photo are not part of this sale.)

THE CHIMNEY IS A SWEETHEART. IT STANDS 6-3/4" IN ITS OWN BUT IS INCLUDED IN THE TOTAL HEIGHT OF THE LAMP AT 13" (AS ABOVE). THE CHIMNEY IS NOT AN ORIGINAL WITH THIS PARTICULAR LAMP, BUT HAS BEEN SUPPLIED BY ME AS A REPLACEMENT, HOWEVER I BELIEVE THE CHIMNEY TO BE VINTAGE. THE COST OF BUYING A REPLACEMENT CHIMNEY ALONE - A NEW ONE WITH RUFFLED TOP - WOULD RUN YOU $10 TO $12.00 ALONG PLUS SHIPPING. THE LINES THAT CAN BE SEEN IN THIS PARTICULAR CHIMNEY ARE LIKE OLD 'DRIPPING' GLASS. THE IRREGULARITIES WITHIN THE GLASS, IMPERFECTIONS AND SWIRLS, AND GENERAL QUALITY 'FEEL' VINTAGE TO ME. THE TOP IS LOVELY WITH A 'FINE-TOOTH RUFFLED' FINISH! SWEET! THERE ARE NO CHIPS OR CRACKS IN THIS CHIMNEY. IT WILL BE DOUBLE BOXED TO INSURE FOR ITS SAFETY IN SHIPPING.

I VALUE YOUR TIME AND ENERGY. THANK YOU FOR YOUR INTEREST IN lightinawormhole. WHETHER YOU PURCHASE OR NOT, BEST WISHES!
**********************************************************************************
SHIPPING: I AM HAPPY TO OFFER PRIORITY SHIPPING FOR THIS LAMP. THE COST IS $13.00. THIS INCLUDES YOUR TRACKING NUMBER AND INSURANCE. OF COURSE I WILL WRAP WITH ABSOLUTE CARE. *** PLEASE ALLOW 3 DAYS ON MY SIDE TO GET IT OUT AND 2 TO 3 DAYS FOR THE CARRIER. MY GUESS IS YOU WILL HAVE IT IN A WEEK OR LESS. IF YOU REQUIRE THE ITEM QUICKER, PLEASE LET ME KNOW & I WILL GET IT OUT AS QUICKLY AS POSSIBLE! ***

CANADA: PRIORITY SHIPPING IS NOT COST EFFECTIVE, BUT CAN SHIP 'FIRST CLASS MAIL INTERNATIONAL' FOR A VERY REASONABLE COST, HOWEVER DELIVERY TIME "VARIES" AND THE SERVICE INCLUDES A LIMITED BUILT-IN INSURANCE, WHICH SHOULD COVER THE LAMP. MORE DETAILS ON THE COST BREAK DOWN AT YOUR REQUEST. ITS' NOT FAST SHIPPING LIKE PRIORITY, BUT IT IS VERY AFFORDABLE AND IT WORKS!

THANKS AGAIN FOR YOUR TIME AND INTEREST. HOPE YOU RE-VISIT lightinawormhole.




Learn more about the shop and process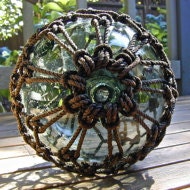 lightinawormhole by Robi
GREEN DIAMOND, VINTAGE HURRICANE OIL LAMP, IN FINE CONDITION WITH VINTAGE CHIMNEY
Listed on Jul 14, 2010
1179 views