Gold is for the mistress -- silver for the maid --
Copper for the craftsman cunning at his trade."
"Good!" said the Baron, sitting in his hall,
"But Iron -- Cold Iron -- is master of them all."

-Rudyard Kipling


Dragons are very powerful, representing a huge range of qualities, emotions, and traits. When Dragons come to us, it could mean many things.
Dragons symbolize a need for strength, courage, and fortitude. Dragons are also messengers of balance, and magic - encouraging us to tap into our psychic nature and see the world through the eyes of mystery and wonder.
More specifically, Dragons are the embodiment of primordial power - the ultimate ruler of all the elements. This is because the Dragon is the master of all the elements: Fire, Water, Earth, and Wind.
The image of the dragon can be found in almost every culture around the world dating back to ancient Sumer, where the great dragon goddess Tiamat was slain and made into the earth by Enki.
In Norse mythology Nidhogg chews at the roots of Yggdrasil, Fafnir guards his golden horde until he is slain by Sigfried, and Jormungand lays at the bottom of the sea biting his tail.
These great bracelets are inspired by the powerful spirit of the dragon.

Viking Knit chain, also known as Trichinopoly chain, first appeared in Scandinavia in the 9th century. It was used for bracelets, necklaces and even for the trim of clothing and other decorative items. I made these from solid black iron wire and then added chrome plated dragon heads the end for a great look. They measure approximately 9" long and are a 1/4" wide.
Learn more about the shop and process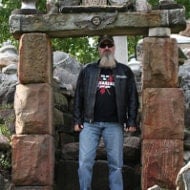 Josh Boeckman
Listed on Oct 9, 2016
114 views