THIS HOKKAIDO ROLLING PIN IS IN MARVELOUS SHAPE, MEASURING 5-3/4" LENGTH, 6-1/2" CIRCUMFERENCE AND 2" DIAMETER. IT SHOWS NORMAL SURFACE ABRASION AND WEAR WITH THE HIGH SHEEN GLOSS IN ITS QUALITY VINTAGE GLASS SHINING THROUGH, EVEN AFTER ITS MANY DECADES AS A 'REAL' WORKING FLOAT AT SEA. THE SILVER SEA GREEN GLASS IS 'BATTLE SHIP' THICK, LIKE LEAD! YOU WILL BE SURPRISED AT THE WEIGHT IN YOUR HAND AS YOU SENSE SECRETS IN ITS ANTIQUITY - ITS AMAZING QUIET INNER STRENGTH.

THIS IS ONE OF THE POPULAR SOUGHT-AFTER JAPANESE ROLLING PIN FLOATS - HAND MADE ON THE NORTHERN ISLAND OF HOKKAIDO. THERE IS NOT A LOT OF INFORMATION AVAILABLE AS TO SPECIFICS ON THE OLD ROLLING PINS. A WONDERFUL RESOURCE WHO HAS COLLECTED, WRITTEN AND STUDIED THESE FOR YEARS, WALT PICH, HAS LABELED AND BRIEFLY DESCRIBED 16 OR 17 DIFFERENT VERSIONS OR TYPES OF ROLLING PIN. EVEN THEN, THERE IS NOT MUCH HISTORICAL INFORMATION AVAILABLE. HE SPENT YEARS INTERVIEWING INDIVIDUAL FISHERMEN TO CLASSIFY AND COLLECT THE VARIOUS TYPES OF FLOATS.

THE KNOBS OR 'EARS' ARE NICELY FORMED, WITH THE BODY PARALLEL, OR FLAT AND STRAIGHT, AS FOUND IN STANDARD HOKKAIDO ROLLERS. THE NON-SEAL KNOB OR EAR HAS A 'BEAUTY MARK', A LITTLE 'WORM' AND AN EXTRA THICK SWIRL OF GLASS WHICH IS SHOWN IN THE FIRST PHOTO. THE OPPOSITE 'EAR' OR KNOB HAS THE 'GLOB' OF GLASS OR SEAL APPLIED AND IT IS IN UNUSUALLY GOOD CONDITION COMPARED TO MANY I'VE SEEN, WHICH HAVE BEEN BEATEN UP FROM SMASHING AGAINST THE SANDS AND SEA-GOING EQUIPMENT OVER MANY DECADES. THIS SEAL IS RELATIVELY UNSCATHED WITH THE USUAL ROUGHNESS TO IT BUT VERY LITTLE GRAZING TO ITS EDGES AND NO CHIPS! YAHOO!

THIS APPEALING ROLLER SHOWS SOME SWIRLING, ONE IN PARTICULAR ABOUT 1/4 THE WAY OUT FROM THE SEALED 'EAR' IS SO PRONOUNCED IT CAN BE FELT WITH A FINGER TIP. SURFACE ABRASION OR WEAR IS NORMAL YET THE GLOSSY SHEEN OF THE HIGH QUALITY VINTAGE GLASS SUPERSEDES THE WEAR. THIS ROLLING PIN IS FULL OF MARVELOUS BUBBLING. IF HELD DIRECTLY TO A LIGHT SOURCE IT REMINDS OF A STARRY NIGHT, FILLED WITH SO MANY POINTS OF LIGHT - YET IN DIM OR INDIRECT LIGHT ONLY THE LARGER BUBBLES STAND OUT. THIS IS A TERRIFIC PIECE LOADED WITH DELIGHTFUL CHARACTER.

THANK YOU FOR HELPING TO CARE FOR AND PRESERVE THESE VINTAGE FLOATS AS THEY ARE BEING REPLACED RAPIDLY WITH PLASTIC AND SYNTHETIC FLOATS.

I VALUE YOUR TIME AND ENERGY. THANK YOU FOR YOUR INTEREST IN lightinawormhole. WHETHER YOU PURCHASE OR NOT, BEST WISHES!
**********************************************************************************
SHIPPING: I AM HAPPY TO OFFER PRIORITY SHIPPING FOR THIS FLOAT. THE COST IS $8.00. THIS INCLUDES YOUR TRACKING NUMBER. OF COURSE I WILL WRAP WITH ABSOLUTE CARE. *** PLEASE ALLOW 3 DAYS ON MY SIDE TO GET IT OUT AND 2 TO 3 DAYS FOR THE CARRIER. MY GUESS IS YOU WILL HAVE IT IN A WEEK OR LESS. IF YOU REQUIRE THE ITEM QUICKER, PLEASE LET ME KNOW & I WILL GET IT OUT AS QUICKLY AS POSSIBLE! ***

PLEASE NOTE: FLOATS OF GENERALLY SIMILAR SIZE AND WEIGHT CAN USUALLY BE COMBINED TO SAVE ON SHIPPING. THESE ARE DECISIONS MADE AT THE ACTUAL TIME OF PACKING, USING MY BEST JUDGMENT TO KEEP ITEMS SAFE FROM DAMAGE IN TRANSIT AND PROTECT THEM MAXIMALLY. BEST OPTION IS TO PAY THE SHIPPING ON EACH ITEM OF YOUR CHOICE UP FRONT. I WILL ISSUE A SHIPPING REFUND PROMPTLY THROUGH PAYPAL ONCE YOUR PARCEL OR PARCELS ARE COMPLETE. MY CUSTOMERS WILL CONFIRM I AM HAPPY TO DO THIS.

CANADA: PRIORITY SHIPPING IS NOT COST EFFECTIVE, BUT CAN SHIP 'FIRST CLASS MAIL INTERNATIONAL' FOR A VERY REASONABLE COST, HOWEVER DELIVERY TIME "VARIES" AND THE SERVICE INCLUDES A LIMITED BUILT-IN INSURANCE. MORE DETAILS ON THE COST BREAK DOWN AT YOUR REQUEST. ITS' NOT FAST SHIPPING LIKE PRIORITY, BUT IT IS VERY AFFORDABLE AND IT WORKS!

THANKS AGAIN FOR YOUR TIME AND INTEREST. HOPE YOU RE-VISIT lightinawormhole.



Learn more about the shop and process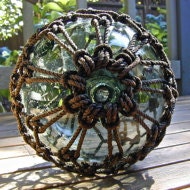 lightinawormhole by Robi
SILVER SEA VINTAGE GLASS FISHING FLOAT HOKKAIDO ROLLING PIN, SILVERY SEA GREEN
Listed on Oct 25, 2010
680 views