This sweater is made of 55% Organic Cotton and 45% Hemp. It has a high, loose neck with 2 buttons so that the neck can be worn open or closed.

Comes in sizes S, M, L, and XL.

***Please specify size when ordering***

Small
lenght-20"
shoulder-shoulder-15.5"
Chest-34"

Medium
lenth-21"
shoulder-shoulder-16.5"
chest-36"

Large
lenth-22
shoulder-shoulder-18.5"
Chest-38"

X-Large
Length-23"
Shoulder-Shoulder-20"
Chest-40"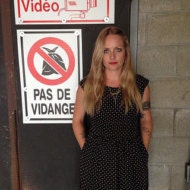 Shanna Flodstrom
SALE Bratislava Sweater Brown-Organic Cotton\/Hemp
---