148 Sales
|
On Etsy since 2008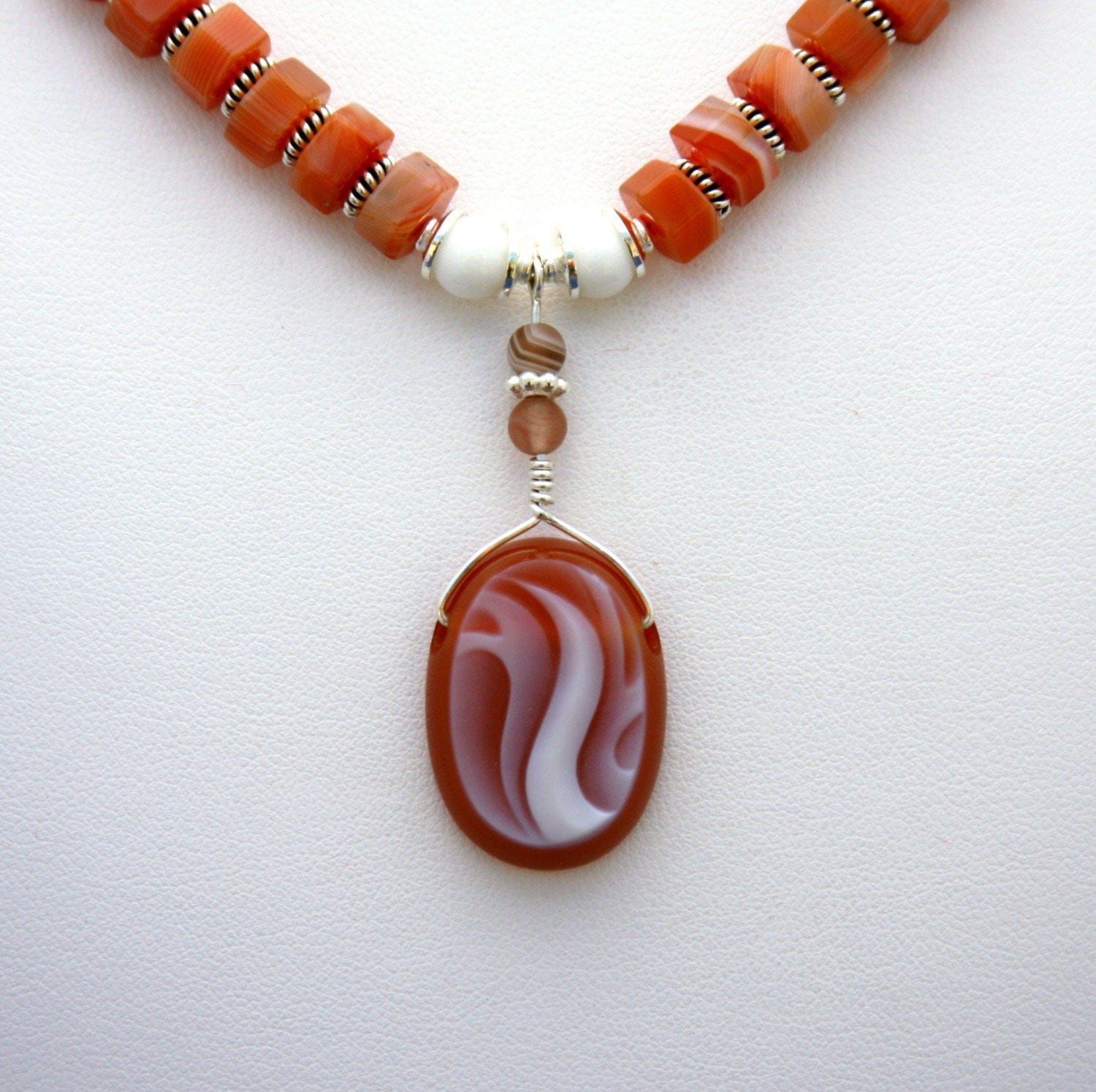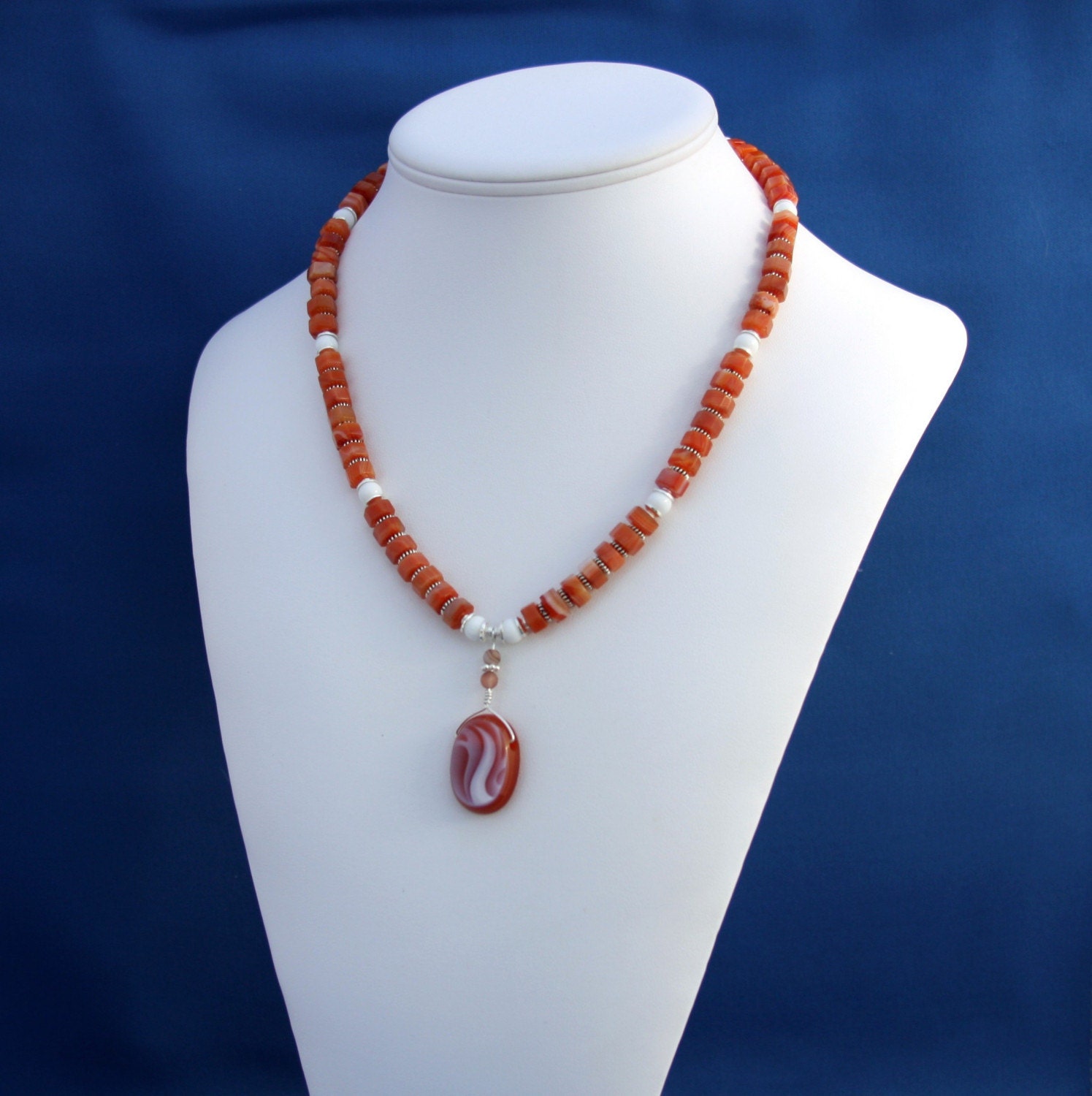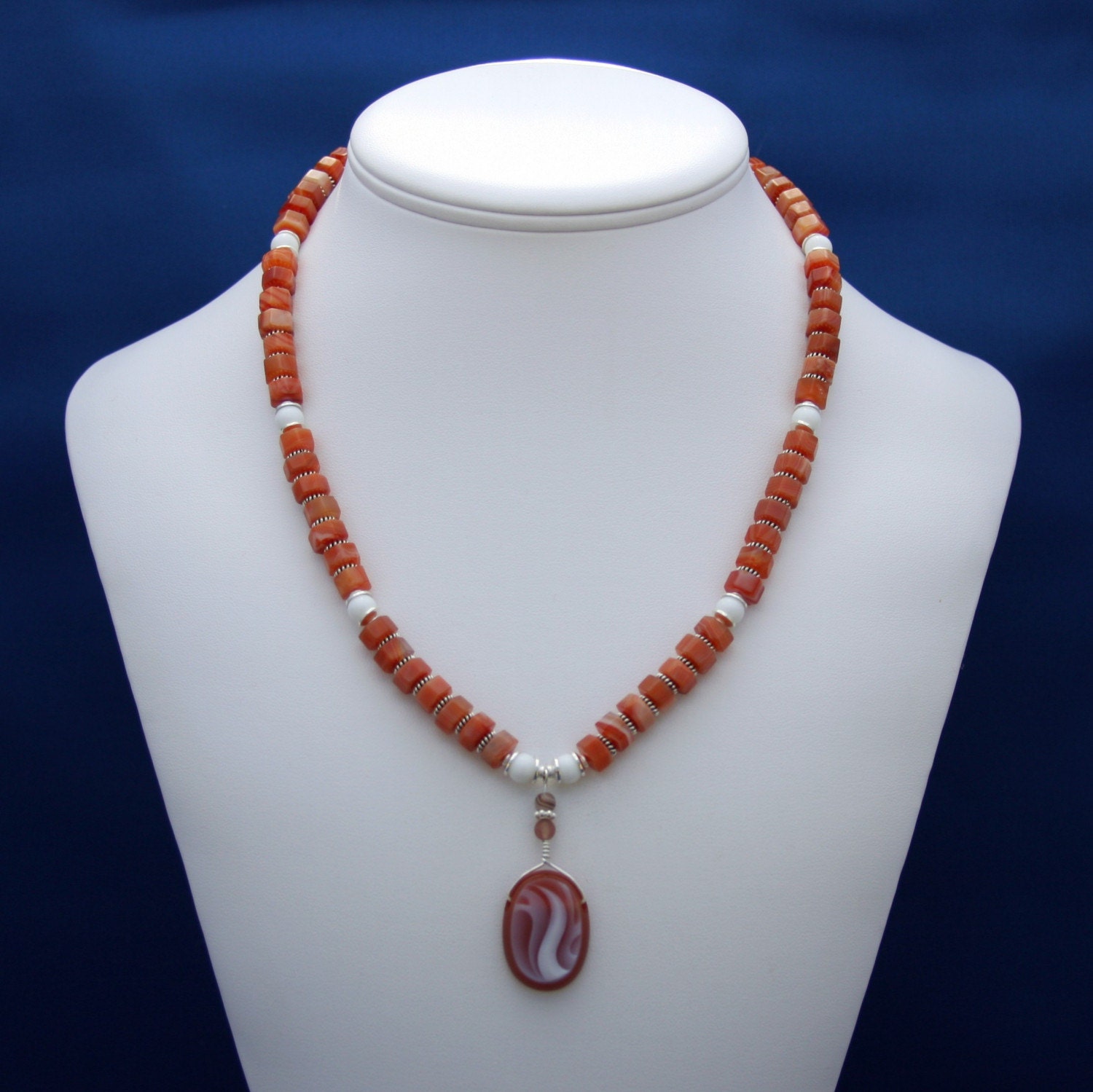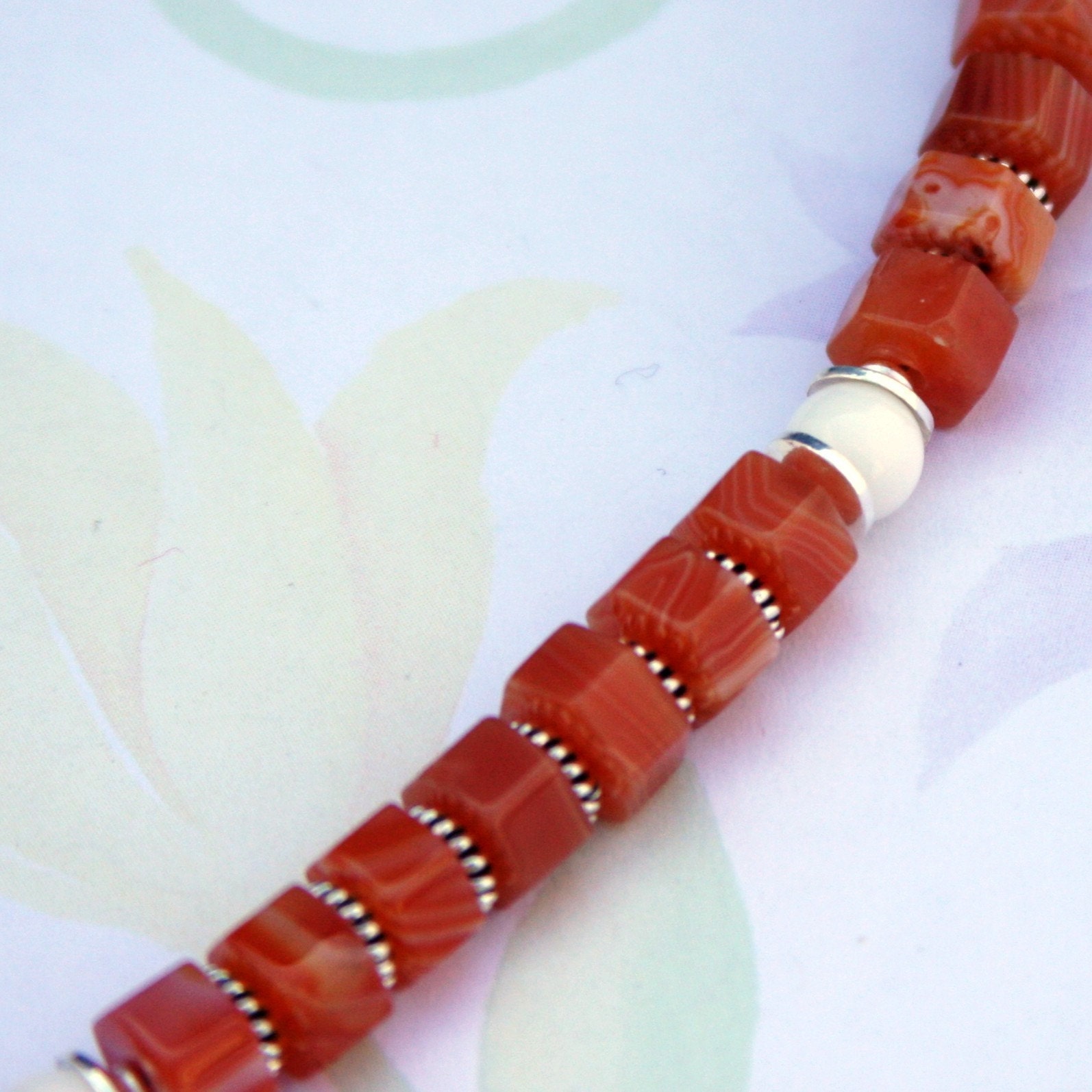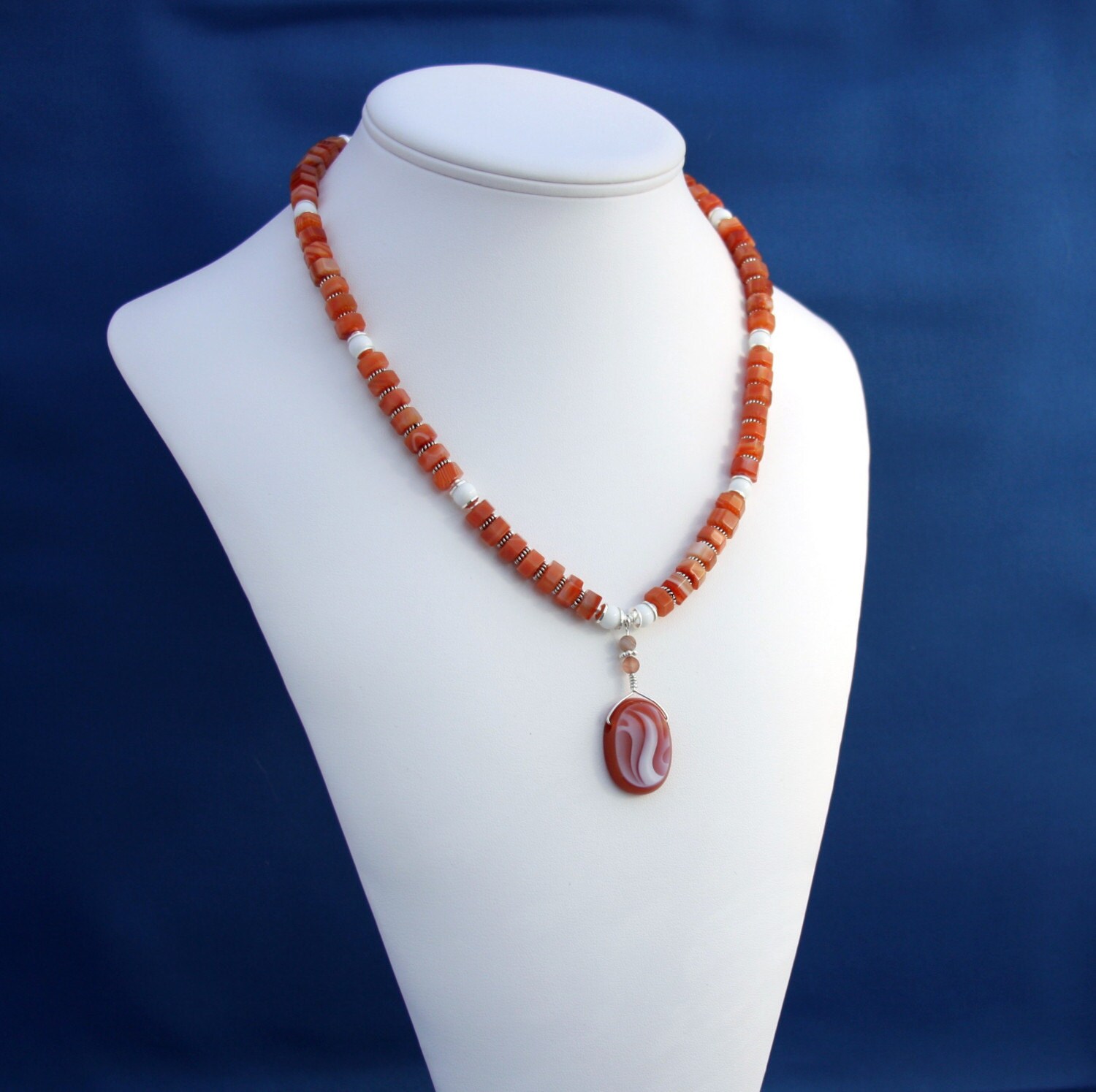 10% of profits are donated to Alzheimer's research.

Agate is the recognized 15th-20th century birthstone for June, and the alternate gift for the 12th anniversary!

Here's a little Gregorian Birthstone Poem for you June babies:

Who comes with summer to this earth,
And owes to June her hour of birth,
With a ring of Agate on her hand,
Can health, wealth, and long life command!

This unique beauty is one of the four elements in the series and features an Auburn Agate Cameo depicting the element of fire.

Anyone over the age of 20 has got to remember the all time great song "Fire" from the Crazy World of Arthur Brown album. Where he belts out "I am the God of Hellfire and I bring you, Fire!" Can't you just hear that in your head? Wow-I sure can.

So, now that we've covered that little walk, or dance, down memory lane, on to the necklace. This little number is understated, but by no means shy. It features a hand carved Agate cameo depicting, yes you guessed it, Fire! I wire wrapped it with Botswana Agate and Bali silver to give it some breathing, or smoking room (get it?). The dimensions of the actual Cameo are: 1" in length by .6875" (11/16"). The total length of drop from the necklace is 1.75".

The necklace is 8x4 Red Lace Agate, 6mm White Agate, tons of striated Bali silver disks and just the right amount of gleaming Bali silver disk spacers. The effect is, well, hot! Yeah, I know, I'm corny.

The length of the necklace, including sterling silver disks, cones and clasp is 19.5".

Now onto history, myth, legend and lore:

Fire has been an important part of all cultures and religions, from pre-history to modern day, and was vital to the development of civilization. It has been regarded in many different fashions throughout history.

Fire is one of the four classical elements in ancient Greek philosophy and science. It was commonly associated with the qualities of energy, assertiveness, and passion. In one Greek myth, Prometheus stole fire from the gods to protect the otherwise helpless humans, but was punished for this kindness. The ancient Greeks distinguished the destructive (aidelon) fire, associated with Hades, from the creative fire, associated with Hephaistos. Goddess Hekate was called Pyrphoros (Fire-bearing), Pyripnon (Fire-breather), Daidoukhos (Torch-bearer) and Phosphoros (Light-bearer).
Plato's student Aristotle (384-322 BCE) developed a different explanation for the elements based on pairs of qualities. The four elements were arranged concentrically around the center of the universe to form the sublunary sphere. According to Aristotle, fire is both hot and dry, and occupies a place between earth and air among the elemental spheres.

In ancient Greek medicine, each of the four humours became associated with an element. Yellow bile was the humor identified with fire, since both were hot and dry. Other things associated with fire and yellow bile in ancient and medieval medicine included the season of summer, since it increased the qualities of heat and aridity; the choleric temperament (of a person dominated by the yellow bile humour); the masculine; and the eastern point of the compass.

Fire is also associated with summer, the color red, the sun, lightning, fire, volcanoes and lava, and all forms of light. Cats of all types, especially the lion and tiger, are also thought to personify the element of fire, as are all predatory creatures, such as the fox.

The astral creatures of fire, known as elementals, are the salamander, phoenix, drake/dragon and, occasionally, the hawk (although most associate this animal with air). People born under the astrological signs of Aries, Leo and Sagittarius are thought to have dominant fire personalities. Fire personalities are believed to have good leading qualities, and also tend to be extroverted, rebellious, passionate and enthusiastic; however, they can also be moody, hot-tempered, snappy, uncontrollable and angry.

Fire represents the creativity and passion that all intellectual and emotional beings have. It is an active force that has the passion to create and animate things. The element is also very rational and quick to "flare up" as is the personality of many "fire-children."

Fire in many ancient cultures and myths has been known to purify the land with the flames of destruction; however, it is also capable of the renewal of life through the warmth and comfort of those very same flames.

The element of fire shows up in mythological stories all across the world, often in stories related to the Sun.

In East Asia fire is represented by the Vermilion Bird, known as Zhū Què in Chinese, Suzaku in Japanese and Ju-jak Hanja in Korean. Fire is represented in the Aztec religion by a flint; to the Native Americans, a mouse; to the Hindu and Islamic faiths, a lightning bolt; to the Scythians, an axe, to the Greeks, an apple-bough; and in Christian iconography, a lion.

History and Lore of Agate:

This is THE stone everyone should have for protection.

The agate is classified as one of the oldest stones in history, dating back to the Stone Age in France. The word Agate is derived from the Greek word Agateeq, meaning happy. Agate has been found with the remains of Stone Age man in France from as early as 20,000-16,000 B.C. and the Egyptians used agates prior to 3000 B.C. for talismans, amulets, seals, rings and vessels. Ancient Egyptian scarabs were often made of Agate. Early civilizations used eye beads to protect them from evil and bring good luck. They created eye beads by carving a hole through an agate disc. Babylonians used agates to ward off storms.

Ancient civilizations believed that wearing agate would make them invisible, thus protecting them from danger. Farmers used agates to ensure good crops. Romans wore agate to please the gods that would bring an abundant harvest. In Persia, agate was worn to confer eloquence and magicians used the crystal to divert dangerous storms. In ancient Asia, agates were used to see the future. Early Britons used the gem to prevent skin disease. Agate talismans were worn in the Middle East to keep the blood healthy. Sucking on an agate was thought to relieve thirst. Another legend says that any person who looks upon an agate cannot remain secretive and is obligated to tell the truth.

Agates attract strength and are a protection from bad dreams. It also protects from stress and energy drains. The agates with banded colors were placed at the head of a sleeper to give rich and varied dreams. Agates have been thought to be good to harden the gums.

Agate is said to have mystical powers to guard one against danger, to cure insomnia, to ensure pleasant dreams and to help with clarity enabling one to see the world through a broader perspective. It attracts good fortune, increases concentration and promotes good will. Agate is reported to be an aid in overcoming flaws, fears, and loneliness. It is believed to remove curses and spells and helps to eliminate bad luck. Many believe that agate has a calming effect during times of stress and that it gives a sense of strength and courage. It is thought to stimulate fertility and to be advantageous in relieving bone marrow ailments and allergies. Artists and writers have used agate to enhance creativity.

For centuries agate was known as a powerful healer, a bringer of good fortune and wealth. Hindu mystics believe that agate helps children overcome fears.

Because agate has been known and regarded around the world for thousands of years, its beneficial and healing properties are diverse and almost innumerable. Only some of the reputed benefits found in literature are listed here: aids in self confidence, communication and public speaking, digestion, arthritis and headaches, and in overcoming addictive behaviors; it banishes fear; brings good luck; clams the mind; cures inflammation; fever reduction; general healing; heals ulcers; improves circulation, courage, hearing, memory, throat conditions, and vitality; lessons headaches; promotes longevity, love, marital and romantic fidelity, and physical strength; reduces stress and emotional tension; stimulates the intellect; suppresses anger; cures insomnia and protect against bad dreams; guard against danger; because it is a cooling stone, it is said to quench thirst and reduce fever.

In general, Agates carry a quiet energy that works on the subtle bodies, and are great for achieving stability and balance in many aspects of one's life. Agates tend to work behind the scenes on the cause, instead of the symptom, of an issue. Agate is believed to improve mental functions and can help where issues of clarity and stability are concerned. Agate is also helpful in overcoming negative emotions by bringing love into the chakras. Although they work very slowly and deliberately, this gentle nature of Agate helps them to have a lasting impact.

Agate is believed to discern truth, accept circumstances, and is a powerful emotional healer. Legend says that Agate improves memory and concentration, increases stamina and encourages honesty. Agate is said to be particularly beneficial to people born under the sign of Gemini as it helps them to remain calm and focused.

It is believed to prevent insomnia and insure pleasant dreams, to enhance personal courage and protect one against danger. Agate provides a calming influence, improves perception, concentration and helps to develop and increase one's analytical talents.

Agate is the Mystical birthstone for September. It is also the birth stone for the Zodiac sign of Gemini. Agate is the accepted gemstone for the 12th and 14th wedding anniversaries.

**Please refer to IMPORTANT INFORMATION in the Additional Policies and FAQs!

So there you have it!
Learn more about the shop and process
Gabrielle
Frequently asked questions about LittleSecrets
Fire Cameo Pendant and Agate Necklace, June Birthstone, 12th Anniversary, Cameo Necklace, Unique Statement Necklace, Fire Sign Necklace
---
Overview
Handmade item
Primary color: Orange
Secondary color: White
Materials:

cameo, agate, thai hill tribe silver, bali silver, sterling silver, red lace agate, botswana agate, white agate, Hand carved Agate

Ships worldwide from

United States

Feedback: 105 reviews
Favorited by: 20 people
Shop similar items from sellers around the world