This top is made out of a cotton\/poly blend, thin material. It is perfect in the spring time... pair it with jeans and high boots, or a hot summer night with some tights and heals.

The neck is large and loose and looks great open or closed.

COLOR OPTIONS:
BLACK\/WHITE (SHOWN)

Comes in sizes S, M, L and XL

**Please specify size when ordering**

Small
lenght-25"
shoulder-shoulder-14.5"
Chest-34"

Medium
lenth-26"
shoulder-shoulder-16.5"
chest-36"

Large
lenth-27"
shoulder-shoulder-18.5"
Chest-38"

X-Large
Length-28"
Shoulder-Shoulder-20"
Chest-40"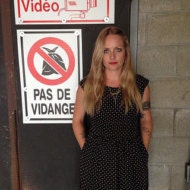 Shanna Flodstrom