This coat is fully lined and made of 100% Wool. It has a large cozy hood to keep your head warm all winter!


COLOR OPTIONS:
GREY (SHOWN)

Sizes are S, M, L and XL.

**Please specify size and color when ordering**

Small
length-20"
shoulder-shoulder-14.5"
Chest-34"

Medium
length-21"
shoulder-shoulder-16.5"
chest-36"

Large
length-22
shoulder-shoulder-18.5"
Chest-38"

X-Large
Length-23"
Shoulder-Shoulder-20"
Chest-40"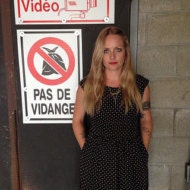 Shanna Flodstrom