This coat is unlined, and made of 100% Wool. It is a very soft, thin wool so it is not itchy at all. The weight is perfect for Spring! It has 2 pockets, real leather elbow patches, and a high neck.

**Please note that this is NOT a winter coat**

COLOR OPTIONS:
BEIGE (LIGHT PLAID-SHOWN)

This coat comes in sizes S, M, L and XL.

**Please specify size and color when ordering**

Small
lenght-18"
shoulder-shoulder-15.5"
Chest-34"

Medium
lenth-19"
shoulder-shoulder-16.5"
chest-36"

Large
lenth-20"
shoulder-shoulder-18.5"
Chest-38"

X-Large
length-23.5"
Shoulder-shoulder-20"
Chest-40"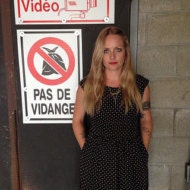 Shanna Flodstrom