Here for sale is one of our unique hand crafted items from our range of medieval reproduction Oak carvings. We have exclusive permission to take moulds from original medieval carvings found within the Cathedrals of England and to then reproduce them for resale through both the cathedral gift shops and to our own customers.
Our reproductions are cast from a resin composite and then stained to give the product all the fine detail, feel and authenticity of the original carving.
Our reproductions are so authentic, copied directly from the original carvings they include all the original cracks & chips from over centuries of wear and tear along with wood worm, wood grain and the makers tool marks. Beautifully color stained and toned they are virtually indistinguishable from the originals.
Our Exclusive & unique range of items make the most perfect and unusual gift for all persons and occasions and one that shows a true thought from the sender in choosing these items.
Although these are reproductions, they are taken from the original carvings and represent a true piece of England's rich and cultural history and heritage.
Green Man #6.
Taken from the medieval carvings (C1380.) found upon the Misericords and supporters from within the choir stalls of Worcester Cathedral. This magnificent carving of the Green Man is one of a pair of very similar designed motifs that adorn these Misericords. The Green Man is seen here in a classic form of his face being surrounded by lush foliage that originates in coming from both his nose and eye's. The Green Man is an ancient symbol dating back to at least Pagan times and represents the eternal cycle of life, from birth to death and then to be carried on through rebirth in the next generation. This has very close links with Mother Nature and the natural world and the connections and similarities with all life upon this planet. Life being mortal for us all but the cycle of life is forever. This reproduction has been taken from the original carving and captures all the fine detail produced by the master craftsmen that carved this piece over 600 years ago. Designed to hang upon a wall, this reproduction makes a stunning display and interesting focal point, comes with a hanging fixture and a product label.
Size (H) 17cm x (W) 17cm.
Learn more about the shop and process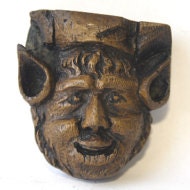 Philip Youle
Green Man Medieval Gothic Reproduction Cathedral Carving.
---