'Metis Arrow Sash Medicine Pouch'

This product comes in a strap style.

This is an evolved Metis Arrow Sash product designed by Mark MiLan and Hand Crafted in Vancouver.

Dimensions: 3.5" width x 4 5/8" height

While observing the Arrow pattern on this pouch you will notice the intricate blend of threads, colours, and arrow patterns that make up the beautiful design. This intricate design is a fundamental historic representation of Canadian Metis Culture.

 Red - Is for the blood of the Métis that was shed through the years while fighting for their rights.
 Blue - Is for the depth of their spirits.
 Green - Is for the fertility of a great nation.
 White - Is for the connection to the earth and the creator.
 Yellow - Is for the prospect of prosperity.


Please visit www.milanart.ca for current events.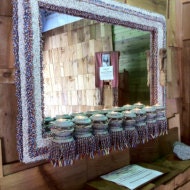 Mark MiLan
Metis Arrow Sash Medicine Pouch
---