SALE and FREE SHIPPING
** ALL books are NEW **
Each book will be sent autographed and dated.
"In the Doll Land of Sha Bebe" Chronicles will eventually become Louisiana classics. Their value will increase as "all BOOKS in general" will become collectibles.

Joy, happiness, and mystery thrive in the sugarcane fields
of the Doll Land of Sha Bebe. Remember "The Land"- !
It will become VERY familiar one day!

Genre: Fantasy/Fairytale -- Readers From 9 to 99 will enjoy.

Book 1-Do you believe?" is about grief and change.-- 88 pages

Book 2-"Cajun Fairies" is about courage and perseverance to confront evil.-- 220 pages

Book 3-"The Wizard of Swamp Alley" is set around Halloween and there is a portal between "this side" and the "other side". Sometimes, the presence of the other side may be near YOU.--- 216 pages

********************************************
All rights reserved. All characters and titles
are protected by copyright law to Mary Lynn Plaisance.
*********************************************
Join me on Facebook.
https://www.facebook.com/Mary.Lynn.H.Plaisance

https://www.facebook.com/BebsCajunDollHouse
**********************************************

The Chronicles of Sha Bebe is a series of fantasy novels by author Mary Lynn Hebert Plaisance, a Cajun classic of children's books written and illustrated by Plaisance since 2004.The Chronicles of Sha Bebe have brought hours of imaginative reading about the cloth doll characters who are alive, set in
the fictional realm of the Magical Doll Land of Sha Bebe in the sugar cane fields of Louisiana.

In this fantasy world of magical dolls who walk and talk same as the humans, first, there is Queen Faustina who rules the land and is married to Wizard Antoine Clement Hebert, the coquettish Madame Plume who POPS the dolls to life with her magic wand, the old maid Madame Poulette who zaps the magic flying quilts with her magic wand, the school teacher Miss Betty Lou, the 16 Sugar Mill Ladies
who cook and clean after everyone, the100 boys and girls who live in the magical land for one month before flying out into human land for the run of the quilts, and the mystical Marie La Vie who is the traiteurs (the healer) in the land.

Plaisance has also created many other characters in each book. Villains and wicked fairies, the Ugly Babies, an eccentric witch doctor, talking animals, and more. Get the books and let the reading take you away from the real world and transport you into another time and another dimension. Overall, one gets the feeling these stories would make entertaining animated movies. Who knows? Maybe they will be one day.

Inspired by Mary Lynn's Cajun heritage, her books are destined to become a classic collection.She admits that there is a small piece of her inside of each doll, even the villains.
---- "Someone is always nearby to take away your happiness. That's a given fact, and it's not easy to be nice all the time. But in the end, if you can hold on to your happiness in your heart, you won the battle. And there is always a battle."

Enjoy Everyday. Enjoy Sha Bebe.
Mary Lynn Hebert Plaisance
**********************************
The Cajun muslin doll she calls Sha Bebe were copyrighted in1992. Then she wrote a series of books about the dolls; a world she made up just for them. Part folklore and part fiction, the idea of both the dolls and the books is a charming one that is full of distinctly Cajun flavors.
Learn more about the shop and process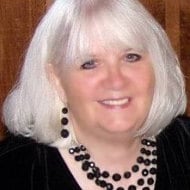 Mary Lynn Plaisance
SALE and FREE shipping- Books by Author, Mary Lynn Plaisance - In the Doll Land of Sha Bebe Chronicles - Collectible Books.A Must Have.
Overview
Handmade item
Materials:

books, paper

Only ships within

United States

.
Feedback: 17 reviews
Favorited by: 7 people
Listed on Jul 17, 2016
634 views