Free shipping in the continental U.S. This 5" x 7" print is printed on 110lb. medium gloss card stock. It's the same size as the original painting, painted by yours truly. The idea for this painting was to recreate one of my favorite horror movie icons as if in a religious icon painting.

People really seem to like Freddy. He had personality. He was a wise ass, a comedian, a murderer. What's not to love? Not to mention he usually kept it dapper with his old school Fedora covering up part of his melted, juicy, glistening head. I remember the first time I watched this movie with my mom (yes, she introduced me to Freddy), it was an entirely new experience for me. The music was soothing but creepy.....the players were like what I imagined to be when I grew up, except for the whole being killed part. It was very identifiable, yet terrifying at the same time. A great film. I was afraid of him, but I still thought he was cool.

The original painting is 5"x7" acrylic paint on panel. I scan the originals at high resolution and reproduce them as these great prints. I hope you like it! Choose a great, gothic style or old wood style frame for these and they really look good on a mantle, bookshelf or hanging on your wall.

All 5"x7" prints are shipped with 1/16" backing board so they won't get bent in the mail. They're also wrapped in sealed cellophane before sealed in the envelope. Hopefully, no compromising weather should be able to penetrate the force field.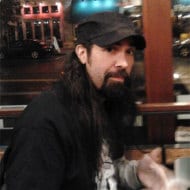 Christopher Gendron
Listed on Nov 5, 2016
16 views