An original 4.5" x 6" watercolor painting on paper

This is from a series of daily practice, improvisational watercolors that are done quickly with no preparation before I start my day in the art studio.

I choose a folded piece of paper from a bowl.
Written on the paper is the name of a character from the Nutcracker ballet that I use as an inspiration to make a small painting.
I don't think about it for too long or make sketches, I just start painting.

The end result is a fresh and inspired picture and a great start to my day.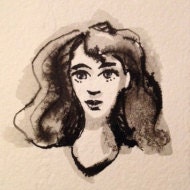 Moira Swiatkowski
Listed on Dec 6, 2016
8 views