Spray Paint and Collage on Paper.

Both the foreground and background layers were created using a spray painted process which creates a negative on paper of plant material. The background is a single sheet of spray painted paper. Adhered on top are rock shapes which were traced from actual rocks, cut out, and then arranged onto the background sheet, creating a camouflage affect.

Size: 11"H x 15"L X 0" D. Unframed.

Historically, artists have always been drawn to representing nature, generally utilizing paint or photography. I combine these two techniques into a hybrid. The natural material becomes a negative through a process of arranging the objects on paper and spray painting over them, creating a play between negative and positive space. Either as the wind blows or by my own hand, the material is rearranged on the paper throughout the spraying process creating a sense of ephemerality. The work mimics the fleeting mood one often experiences amongst the trees.
Attracted to the systemic and organic structure of the environment in comparison to the linear approach in which mankind orders natural material, I put my own hand back into the process by furthering the development through print, drawing, and painting, as well as incorporating technology to push the overlap of two worlds.

This piece will ship flat between sturdy sheets of cardboard.
Learn more about the shop and process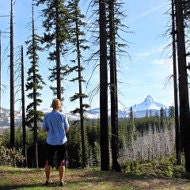 Jessie Knirsch
Listed on Dec 23, 2016
34 views