Rose Quartz or Clear Quartz or Amethyst Pendant- this is for 1-Rose Quartz, Clear Quartz or Amethyst Pendant- each one is unique and from Brazil. Please specify which mineral you want. These are wrapped and ready to add to any necklace you want to make or just put it on a cord and it is ready to go.

Amethyst- quartz results from exposure to natural or artificial radiation, which causes minute iron and aluminum impurities to expose themselves. Impurities need not be more than one in one thousand silicon atoms for the color to be evident. Amethyst is the most expensive and highly regarded color in the quartz family. Amethyst gained its color, according to Greek myth, when the god Bacchus promised, after being insulted, that he would consume the first person he saw. The hapless person turned out to be Amethyst on her way to worship the Goddess Diana, who swept down to save her and turned her into clear quartz crystal. Seeing the error of his anger, Bacchus poured grape juice over her, turning her stone body purple. Amethyst is the State gem of South Carolina. Amethyst is the February birthstone.

Quartz- Clear- is unadulterated silicon dioxide, and is the most common variety of quartz as well as one of the most common minerals in the Earth's crust (twelve percent by volume). We characterize it as man's best friend in the mineral spectrum, therefore it embodies the energy of the dog. The link of oneness it provides throughout the earth gives it its greatest significance as being a stabilizer of divine forces on the physical plane. It brings spiritual consciousness to the material world. It can be used for all manner of healing work and therapies, and quartz acts as a medium for meditation, clairvoyance, wisdom, healing and communication with all levels and kingdoms of life.

Rose Quartz- the color of rose quartz is produced by impurities of titanium or inclusions of manganese. Rose quartz is the quartz of the heart, and emotional release and balancing stone. Its pink color resonates warmth and love. Rose quartz is the state mineral of South Dakota.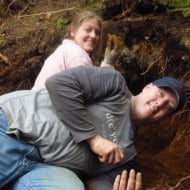 Todd and Kim
Rose Quartz or Clear Quartz or Amethyst Pendant
Overview
Materials:

amethyst, rose quartz, clear quartz

Ships worldwide from

United States

Feedback: 5024 reviews
Favorited by: 220 people
Listed on Jul 14, 2016
2779 views