Hop Rhizomes: Cascade, Chinook, Glacier, Crystal, Comet, Mt. Rainier, Columbus, California Cluster, Brewers Gold, Nugget, Willamette & more
There was a problem calculating your shipping. Please try again.
279 reviews
4.5 out of 5 stars
Loading
So far so good!!! This purchase landed in my mailbox on Jul 29, 2022 - I kept package in fridge for the night and planted the next day. I'm happy with the size of rhizome - my only complaint is that I found mold growth on rhizome after opening. (Still.., Shipped across the country in damp paper towel preventing it from drying out, inside a plastic bag and bubble wrapped in summer for four days - this is the nature of things) So I rinsed mold off under cold water with my fingers and then planted. ..Today the plant looks like THIS!!!!!!! Thank you!!!
This is my second time ordering from this shop. The first time I only ordered one to test out the quality and I was impressed with the freshness and size of the rhizome. It was definitely successful in my garden. This time I ordered 7. Great quality, nice size rhizomes. Can't wait to see how they do this time! Hoppy growing 😊
I ordered some magnum rhizomes to plant and use as shade for some of my birds. It was 16 days from order until delivery, which was fine. A little longer than I figured it would be, but whatever. However- when my package arrived I could smell the rhizomes from outside the mailbox, and our usps man said that his truck smelled like a dead animal from them. When I opened the package it was so much worse, I have never had any kind of plant smell like this. They were covered in some kind of white mold all over as well. I stuck them in some big pots away from my other plants, just incase it's some kind of contagious plant disease. I'm not sure I should have even planted them, as I honestly doubt they'll grow at this point. Other than that- they are some of the biggest rhizomes I've ever received. That part was nice.
Great! I bought 1 rhizome and cut it in two and now have 2 plants
Disclaimer: Etsy assumes no responsibility for the accuracy, labeling, or content of sellers' listings and products. Electrical or electronic products may pose a risk of fire or electrocution. Vintage, handmade, refurbished, or modified electrical or electronic products may not meet current safety standards and may not be in safe working order. Inspect carefully before use and message the seller if you have concerns relating to the product. Do not use a vintage electrical or electronic item if its safety cannot be verified. To reduce the risk of fire, never leave vintage electrical or electronic products plugged in unattended. See Etsy's Terms of Use for more information.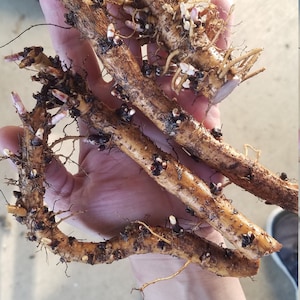 Browse collections for more inspiration