From my cross and clergy collection, here is a bead woven necklace featuring the United Methodist cross and flame. The Cross and Flame Design is owned by the United Methodist Church and may not be used for sale without permission, unless by use of funding ministries. All profits from the sale of this original necklace and design go to Harvest 2020 NICUMC.
This original pattern and design features, unheated untreated faceted natural rubies, natural round quartz, sterling silver wire work and czech seed beads.
The piece was designed with a few themes in mind. The first being the cross pendant. I wanted it to be very prominent and visible, almost as if it was floating in the middle of the chest.
The second focal theme point is the spirals of the main part in the chain. Spirals are a symbol of our DNA, and eternity. The colors black and red here signify the spiral of creation, birth and death, which is circled by the (red) flames of the spirit. Spirit enflames life. Spirit is the essence of life itself.
Lastly the Gemstone Synergy Combination of Ruby, Quartz and Sterling Silver is for vitality, energy, and health. Clergy and Pastors have one of the hardest jobs of any person. They are constantly on call, constantly thrown to the areas of lives and hardships that most would avoid at any cost. They are minimally compensated, sacrifice family time and a 'normal' socail life to foster the betterment of others and society as a whole. The cultural shift of mistrust and scapegoating of those in authority has not past by those of the 'holy sect', but instead fallen hard on them. All in all, despite all these hardships, a pastor must keep on, proclaiming the spirit and being in tune with God's call on their lives and others. After all the blind can not lead the blind, and many times the distractions and heavy issues of a pastors call, can blind even them to the guidance of the spirit. Thusly this stone combination is purposly attuned to health, energy and vitality, for the pastors.
This is a made to order listing. Please send me a message before purchasing for an appropriate wait time as this item is made. This is also available as a pendant alone, or without the gemstones for a significantly lower price.
Original Pattern, Necklace, Descriptions, Gemstone Synergy COPYRIGHT Victoria Biel 2008, 2009, 2012
Thank you for purchasing from
GoodnessInTheCosmos.etsy.com
For more original handmade jewelry please view the webstore by clicking on the above link.
On a personal note:
I have been beading since the age of thirteen. Through the years I have mastered, taught, and written about different beading techniques, wire wrapping, metalsmithing, lapidary (gemstone cutting), and gem stone properties. I am big into research. I feel it is extremely important to know where things come from and how they are made, from our food supply to our clothing and adornments. The choices we make effect everything including the quality of living for ourselves and others.
GoodnessInTheCosmos.etsy.com
uses the most natural materials possible. I sew rather than glue, I choose untreated, undyed gemstones. I use only solid sterling earwire or gold fill, as it is better for the environment than a higher grade gold. I like copper wire, it is primitive and easy to manufacture. I use animal free fibers, ALWAYS!
Here is a bit about what you can find in my shop:
Hand made Jewelry,Earrings, Bracelets, Anklets, Barrettes, Necklaces, Pendants, Rings, Natural Gemstone Jewelry, Healing Stone Synergy Jewelry, Seed Bead Art Adornments, OOAK and original jewelry, Wire wrapped jewelry, Metalsmithed Jewelry and Hand Lapidary Stone Jewelry (collected cut and polished by myself).
What is 'Gemstone Synergy' and Healing Stones? Since the beginning of history, humans have adorned themselves with stones and metals as jewelry. Just as long, cultures throughout the entire world have attributed special significance to the specific qualities of each stone and metal worn. Goodness In The Cosmos Healing Stone Jewelry uses Gemstone Synergy, which is the unique combination of specific stone properties, united to form one specific 'theme' energy.
What is Color Therapy Bead Art? Adorn your beautiful self with one of a kind beaded works of art jewelry. Goodness In The Cosmos Color Therapy Bead Art uses a variety of techniques from bead embroidery, to loom work, and off loom bead weaving techniques, all with beads smaller than crumbs :) These pieces use color therapy (the idea that certain colors influence emotions) and artistic meanings behind each piece.
What Materials are Used? -Goodness In The Cosmos uses the best quality natural beads available to make beaded gemstone crowns (special orders available), spirit halos(seed beaded crown), hair jewelry barrette adornments, earrings, bracelets, pins and power necklaces. Pieces will use all natural gemstones, czech and miyuki delica beads, as well as upcycled components and materials. All materials are vegan and promote a healthy loving lifestyle.
Occasionally this store will list embroidery floss friendship bracelets. Every artist has their roots and those (as well as fine seed beadwork) are mine! :)
Like all gemologists and artists, I must put this disclaimer that, no jewelry is meant to treat/heal any medical condition. Please see your trusted physician for any physical/psychological complaints.
Thank you for purchasing from
GoodnessInTheCosmos.etsy.com
. You are greatly appreciated.
Learn more about the shop and process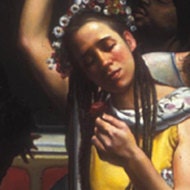 Victoria
Seed Beaded Necklace, United Methodist Cross and Flame, Clergy Cross, Rubies, Quartz, Statement Necklace, Sterling Silver WireWork
Overview
Handmade item
Materials:

sterling silver, silver, quartz, ruby, natural, natural ruby, natural quartz, czech beads, seed beads, red beads, black beads, ab beads, clear beads

Made to order
Ships worldwide from

United States

Feedback: 135 reviews
Favorited by: 40 people
Listed on Jul 8, 2016
1159 views