This is a Coach 'Handle Portfolio' in what I believe is a light burgundy leather. The Coach creed states It was made in New York City and bears registration number 745-6868.
This is a great bag to use for business or pleasure. It's large enough to carry a 16 inch laptop along with your files, phone and keys. I acquired this bag from an owner who claimed to have kept the original box and offered the bag wrapped in Coach tissue paper in the box for sale. I accepted the offer and then, to my surprise, the owner actually shipped the bag in the original box rather than shipping the boxed bag in a larger box. Consequently, the Coach box has been taped up and is a little worse for wear than it should be. When you buy this bag, the box and bag will be shipped in a larger shipping carton so as prevent further damage to the original carton.
The person I acquired this from said the color was burgundy and I agree. However, I have been called color challenged by friends. Others have pointed out to me that each individual has his or her own color receptors. As a result, people see the same color differently. Consequently, I have included the Coach Color chart from the 1981 Coach catalog in collage photo 5 so you can decide what color it is for yourself. This is how Coach described the Handle Portfolio in 1981:
No. 5050 Handle Portfolio...... $110 [ $262.69 in 2016 dollars per the inflation calculator]
Serving either as a bag or a legal-sized portfolio, this Coach bag is appreciated by Executives of both sexes. There's an inside pocket and a brass industrial zipper. Black, Boca, Tabac, British tan, and Saddle [Note that Burgundy is not listed as an available color in 1981- this could mean I'm wrong about the color but, since this bag could have been manufactured earlier and my catalogs start at 1981 it could also mean that the Handle Portfolio was offered in burgundy in a different year]
Dimensions:
Length: 17 inches
Height: 11 inches
Width: 2 inches
Condition:
This bag is in very good condition. With the exception of an issue with peeling and cracked leather on one handle and an impression mark on one side of the bag it is in a totally unblemished condition. However, it does have the typical scuffs and scratches you will find on a bag over 35 years old except, this bag has fewer than most that age. I cannot say for sure if the box it comes in was the original box. Some Coach products I have acquired have had a label on the box that identifies the bag inside by style and style number. This box does not have that identification. The box also has FS in printing on it which is indicative of 'Final Sale' which usually means the bag had a minor defect that was not subject to repair under the Coach lifetime warranty. However, the bag itself has no 'FS' on it's creed which is inconsistent with other FS bags I have acquired which have that designation. Please see photos for the most accurate description of this bag and ask for more if you need them.
THE FACTORY
This bag was made in the NYC Coach Factory which means it is in the class of the most sought after vintage Coach bags. Coach no longer produces bags in the U.S.A. and the Factory is gone. The quality of the bags manufactured at the Coach NYC factory and the skills of the leather workers who produced them was memorialized in a book released in 1977 entitled "The Factory". Although commissioned by the owners of Coach, it is a testimonial to the skill and diversity of their work force Here are some excerpts from 'The Factory':
"The factory occupies two floors of a 12 story building in downtown New York City and employs about 125 members of the Pocketbook and Novelty Workers Union Local No. 1 AFL-CIO. It is the Coach Leatherware factory, and the people who work here make bags and belts out of leather and brass.
**********************************************************************************
Looking around the factory, out of town visitors are always struck by its rich ethnic mix. Like a microcosm of the City itself, every race, creed and national origin seems to be represented. In addition to 2nd generation New Yorkers, both black and white, there are Italians and those of Italian descent, Poles and those of Polish descent; likewise, Germans, Hungarians, Lithuanians, and Russians - as well as Cubans, Puerto Ricans, Dominicans, and a number of other Hispanics from Central and South America.
***********************************************************************************
Here in New York City we have recruited workers from what is undoubtedly the world's largest pool of skilled labor, and this has enabled us, over the years, to choose from the best in each category.
************************************************************************************
"The leather goods industry is a highly competitive one. If Coach bags and belts have enjoyed a certain success in this field, it is precisely because they are made in New York City by those people whose skill, energy and quick intelligence make it possible to turn out a quality product at a fair price. [ The Factory: Portrait of a Leathergoods Factory in Downtown New York City; Pictures by Jeremy Lezin- Words by Miles Cahn; July 1977]
If you prefer a different style vintage bag, I have many in stock and you can see it at my shop at
https://www.etsy.com/shop/ProVintageGear
Learn more about the shop and process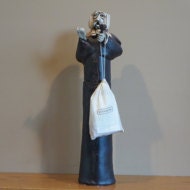 Greg Gibbs
Football Days Sale Coach Handle Portfolio Briefcase Laptop Carrier In Burgundy Leather Made In The Factory In NYC-Boxed And Wrapped- VGC-
---
Overview
Vintage item from the 1970s
Materials:

Supple burgundy glove tanned leather, Solid brass hardware, Industrial brass zipper closure, Interior brass zipper pocket, Padded handle, 17 inches L x 11 H x 2 inches Wide, Made in NYC in The Factory, Wrapped in Coach Box and Coach Tissue Paper, Suitable for 16 inch laptop

Ships worldwide from

United States

Feedback: 197 reviews
Favorited by: 8 people
Listed on Oct 2, 2016
176 views