I started out making adult bibs for my friend who teaches a flight class (most of her students are in wheelchairs). So I made 10 bibs for her students and then just started making them as gifts. My friend loves hers. She washes them daily and they are still looking very nice after 6 months. Her students have their favorites and it keeps them dry. I make them out of cotton fabrics and flannel - each bib is made of 3 layers with a white flannel in the middle - I stitch the white flannel and the back together so it will not bunch then I add the 3rd or front layer - I sew the 3 layers together and then put a zig-zag stitch around it to finish. They are very durable - I also sew Velcro to use to hold bib at the back of neck.

This listing is for an adult/large outer space bib. The front is black with different colored planets and spaceships. The reversible side is orange with a white floral pattern.

If you have any questions don't hesitate to ask!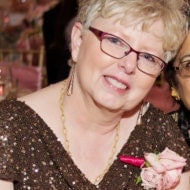 Carol Stinemetz
Adult/Large Outer Space Bib
---
Listed on Dec 6, 2016
4 views