Descent to the Goddess: A Way of Initiation for Women
by Sylvia Brinton Perera
Published by Inner City Books (1981) (no previous edition stated)
ISBN 10: 0919123058 ISBN 13: 9780919123052
Measures 9x6 inches Weighs 7 ounces

Condition: Good.
Scuffing at edges, creased spine, rounded corners.
Interior is clean, former owner name is on first leaf (the half title) else is clean.
Pages are slightly tannish, text is crisp.

Introduction
The return to the goddess, for renewal in a feminine source
ground and spint, is a vitally important aspect of modern
woman's quest for wholeness. We women who have succeeded
in the world are usually "daughters of the father"-that is
well adapted to a masculine-oriented society-and have repu­
diated our own full feminine instincts and energy patterns
just as the culture has maimed or derogated most of them. We
need to return to and redeem what the patriarchy has often
seen only as a dangerous threat and called terrible mother,
dragon, or witch.
The patriarchal ego of both men and women, to earn its
instinct-disciplining, striving, progressive, and heroic stance,
has fled from the full-scale awe of the goddess. Or it has tried
to slay her, or at least to dismember and thus depotentiate
her. But it is towards her—and especially towards her cultur­
ally repressed aspects, those chthonic and chaotic, ineluctable
depths—that the new individuating, yin-yang balanced ego
must return to find its matrix and the embodied and flexible
strength to be active and vulnerable, to stand its own ground
and still to be empathetically related to others.
This return is often seen as part of the developmental pat­
tern of women—what Erich Neumann calls a reconnection to
the Self (the archetype of wholeness and regulating center of
the personality) after the wrenching away from the mother by
the patriarchal uroboros and the patriarchal marriage part­
ner.2 But Adrienne Rich speaks for many of us when she
writes, "The woman I needed to call my mother was silenced
before I was born."3 Unfortunately, all too many modern
women have not been nurtured by the mother in the first
place. Instead, they have grown up in the difficult home of
abstract, collective authority-"cut off at the ankles from
earth," as one woman put it-full of superego shoulds and
oughts. Or they have identified with the father and their
patriarchal culture, thus alienating themselves from Jeirown
feminine ground and the personal mother, whom they nave
often seen as weak or irrelevant/ Such women have au me
more necessity to meet the goddess in her primal reality.
This inner connection is an initiation essential for....
Learn more about the shop and process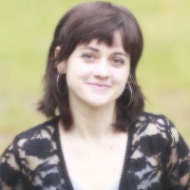 KeriAnn
Descent to the Goddess: A Way of Initiation for Women Sylvia Brinton Perera Inner City Books 1981, First Edition Paperback Goddess Journey
---
Overview
Vintage item from the 1980s
Ships worldwide from

United States

Feedback: 154 reviews