In history, the Wolf symbol appears throughout the world. Legend has it that the two founding brothers of Rome, Romulus and Remus, were raised and suckled by a she-wolf.

In Norse mythology, there are many wolves. Two wolves, Geri and Freki, are the constant companions of Odin. Skol and Hati chase the moon and sun and will swallow them whole on Ragnarok. And Fenrir, a wolf so great, the even the gods feared him.

In Celtic tradition, the Wolf was a source of lunar power. Celtic lore states that the Wolf would hunt down the sun and devour it at each dusk so as to allow the power of the moon to come forth.

In Asia, the wolf guards the doors that allow entrance to heavenly, celestial realms. The Wolf is also said to be among the ancestry of Genghis Khan.

To the native Americans, wolves were guides that would lead you down your spiritual path and even into other realms.

This piece is a silver plated pendant of celtic knot work wolves on a leather cord. A simple yet powerful piece. The cord measures 24 inches.
Learn more about the shop and process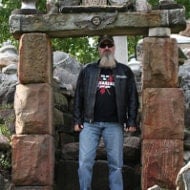 Josh Boeckman
Listed on Dec 13, 2016
47 views