Single Rose Glitters with Pink Zinnias and Glass Ornament
Here's The Perfect Single Rose Arrangement for any Desk
in a Beautifully Hand Painted Mug

Enjoy Decorating for Christmas Holidays & Beyond with Christmas Fabulosity

Measures 11 x 14 x 10" Approximately

Here is a small piece especially well suited for a person's desk where space may be limited but décor is desired. This Festive Christmas Cup is sleek and elegant with a single perfect tea rose surrounded by very real looking pink zinnias with a hand painted glass ornament featured in the center front.

Lavish curls of sparkling red and gold ribbon winds and curls up and over the top as if being blown by the wind.

Soft grey green foliage and moss finish the landscape along the rim of the base, and of course, the piece has yummy gold glitter leaves adding just the right amount of Holiday bling and sparkle.

From the back of the piece we see soft snowy pines with a white/gold snowflake reminding us of wintertime, warmed up by a bit of wintery red hydrangea and cascading waves of red ribbon.

Around the mouth of the base you see tufts of soft green moss for a clean finish.

The base is a standard sized coffee cup. The piece weighs under 2 lbs. It feels surprisingly heavy for its size and glides across the table with felt feet.

First I painted it with several coats of enamel paints in different colors, and I worked the paint to achieve an enamel style effect that I liked. I used metallic paints and the cup is a work of art itself.

Once it was dry I gave it a good clear coat to protect the paint.

This elegant arrangement is short enough to talk over when used as a centerpiece for your dining room, and it looks especially elegant when paired with white candles.


Care:
Gently wash containers as needed with mildly soapy water, rinse and dry. Preen the feathers as needed, just gently stroke them out and dust with a soft cloth. The flowers have been glued in and can be gently handled and bent to re direct but they are so jeweled they should stay dry and can be wiped by hand to clean. If you use a commercial silk flower cleaner spray, do so at your own risk- I have no way of predicting the outcome. I would not use a spray on this piece, it's really quite special.

About the Pictures:
In my pictures I am showing you both front & back & side, and you should be able to really zoom in deep on your computer to see details in the arrangement. I do adjust the light levels in my photos so you can see the detail in each piece better - I want you to be able to see it well. I am trying to give you an accurate picture of just how the arrangement is going to look when you get it home.

I do not apply any filters to the photography to enhance or alter color, but since the monitors are all slightly different there will be slight variations in color. However, the pictures I am showing will be honest describing the product and I think you will be pleased with the likeness. I want you to think this is the prettiest arrangement you've ever seen, and I don't want to mislead and disappoint you, so I'm keeping it as real as possible. Each arrangement is sold separately.

To demonstrate how these arrangements will blend into your holiday décor setting, I used some of my own Christmas treasures in some pictures to give you an idea.

You will see things I have collected over the years like Fitz & Floyd, Annalee Dolls and Mark Roberts fairies on display in product shots. Those items are not included with any arrangement, nor are they for sale. Actually, I would never sell them, for they are some of my favorite old friends that I get to see every year when I decorate for Christmas!

However, the accessories and gift ware you will see on display in product shots that I do make are available for purchase thru the store as well, unless it's already sold. If that's the case just let me know what it is you like and I can always make more, or take a custom order so you get exactly what you want.

If you have any questions or want more pictures of something in particular, please email me and let me know.

Thank you for shopping here. I think you will be very happy with your order and I hope you favorite me and return often – I have spent a lifetime making pretty things, but am just getting started with Etsy now. I have many more things to post, so please check back now and then to see what's new.

Thanks Again, and I wish you Every Blessing and the Merriest of Christmases!
Learn more about the shop and process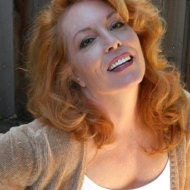 Sheila McNamara Styles
Frequently asked questions about FabulosityFloral
Single Rose Glitters with Pink Zinnias and Glass Ornament for Holidays & Beyond with Christmas Fabulosity in a Beautifully Hand Painted Mug
---
Overview
Handmade item
Materials:

Silk Flowers, Glass Ornaments, Bling and Inspiration, Lots of RIbbon, Feathers, Love, Roses, I took a Cup and then I painted it, A Snowflake Pick

Ships from

United States

to select countries.