■Ancient Beauty Perserved Alive ■ by NewEarthGem

▪Here's a natural Blue-Green Mexican Amber Choker Pendant, strung on hand braided natural hemp and nylon mixed cord, and completed with an orange Amber bead by NewEarthGem.▪

•Amber is a marvel of a Gem, and rightly so. It is the fossilized resin of ancient conifer trees that existed millions of years ago. Amber is a softer stone, and, being a fossilized resin, is amazingly light.•

•Amber has been highly prized and coveted by many civilizations in ancient antiquity, and is no less valued in our day. Amber beads have been found in ancient Viking burial mounds, and was considered divine by the ancient norse peoples. Amber has been said to house ancient wisdom, for it was once organic matter, and is as essential to trees as our blood is to us. Amber is my favourite gemstone, and all the Amber I use in my jewellery has undergone several tests to prove it's authenticity. (Please feel free to message me for any questions on the tests I perform).•


■Ancient Beauty Preserved Alive■
•My purpose with NewEarth is to create pendants and jewelry not only for aestetic appeal, but to share and encourage awareness, appreciation, and love for our earth and every beautiful mystery on it. With every piece I create, I draw inspiration from the way ancient cultures viewed the world around them. In a time where wood, stone, plant and creature made up the environment, beautiful stones and crystals had a captivating, alien beauty. In turn, they were exalted and seen as something awe-inspiring, otherworldly, and divine. Though our world today is a much different reality than what our ancestors experienced, we can still appreciate and continue the ancient view of precious stones. Through NewEarth, I strive to preserve that ancient respect and love for all things that even today, captivate our imagination•

NewEarthGem by Jesse. V
And follow on Instagram! @newearthgem
Email: newearthgem [!at] gmail.com for all inquiries on prices and custom orders.
Learn more about the shop and process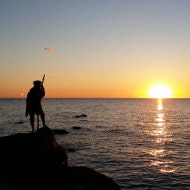 Jesse
Amber Blue Green Natural Pre-Historic Fossil Resin Choker Necklace Pendant Mexican Gem Fall Summer Fashion by NewEarthGem
---