***Dark Brown Botswana Agate***

You will see me using this stone a few times I just love the look of the stones and the different pools of colors they have. Each stone is like a work of art. The stones each have their own story and variations that keep me coming back for more. This stone is a dark brown almost black round 12mm coin. The white veins in the stone are like waves in the ocean they are constant and steady. I accented this stone with Shiny Sterling Silver with a french ear wire. thanks for looking!

------------------------------------------------------------

***Eye Agate (Botswana) Gemstone meaning***

Also known as Botswana Agate, eye agate has been known to ward off the evil eye. This is the gemstone for people who are sensitive and lonely or easily hurt. It will help you have more self-satisfaction and protect you from hurt.

This is THE stone everyone should have for protection. This group of stones are variegated chalcedony. The agate is one of the oldest stones in recorded history.

Agates attract strength. Agate is a protection from bad dreams. It also protects from stress and energy drains. Agates have been used in jewelry since Biblical Babylonian times. They were used to ward off storms. They were prized gems in antiquity. The agates with banded colors were placed at the head of a sleeper to give rich and varied dreams. Agates have been thought to be good to harden the gums.


Healing properties of eye agate
Eye Agate or Botswana Agate enhances sexual energy by giving physical stamina.

Agate is used for stomach upsets. Place the agate on the solar plexus. The agate can't change emotions, but helps to change our level of acceptance of the emotion. Such as when you are very sad the agate will let you know that this will pass and help you get on to another and better day. This is why the Agate is considered so powerful as it gives us the strength to carry on. Carry an agate when you have to make an important decision.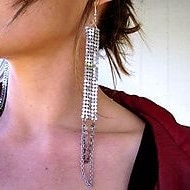 Kathleen
Dark Brown Botswana agate---Accented with Sterling Silver
Overview
Materials:

natural stone, botswana agate, sterling silver, sterling wire, ear wire

Ships worldwide from

United States

Feedback: 170 reviews
Listed on Jul 11, 2016
88 views