Hello my lovely and welcome to Rising Moon Crystals!
I hope you will enjoy taking a look at my creations! :-)

Here is a beautiful handmade Pendulum that I would like to show you !

NATURAL PURPLE AMETHYST FACETED CONE PENDULUM with a Moon and a matching bead ~ antiqued silver finish.

The Moon serves as an illumination in the darkness, and helps us track the passing of time, we can accurately predict the moon phases and have been able to do so for thousands of years. Within the Tarot particularly, the moon is an archetype for the fickle and changeable. The changeable nature of the Moon has also easily identifiable phases which can be compared to human experience and help understanding our place in the universe. So the moon can represent emotional and spiritual growth. Associated with the Amethyst, this pendulum has been created to enhance spiritual growth, awareness and psychic abilities.

***Amethysts properties****
Amethyst is a powerful and protective stone.  It guards against psychic attack, transmuting the energy into love and protecting the wearer from all types of harm, including geopathic or electromagnetic stress and ill wishes from others.  Amethyst is a natural tranquiliser, it relieves stress and strain, soothes irritability, balances mood swings, dispels anger, rage, fear and anxiety.  Alleviates sadness and grief, and dissolves negativity.  Amethyst activates spiritual awareness, opens intuition and enhances psychic abilities.  It has strong healing and cleansing powers.  Amethyst encourages sobriety, having a sobering effect on overindulgence of alcohol, drugs or other addictions.  It calms and stimulates the mind, helping you become more focused, enhancing memory and improving motivation.  Amethyst assists in remembering and understanding dreams.  It relieves insomnia.  Encourages selflessness and spiritual wisdom.

If you are looking at my pendulum, you probably are experienced with them but in case you are new to pendulums, here is a quick guide for you:

***How to Use a Pendulum***:

Choose a Pendulum:
Allow a pendulum to choose you. If you like the way it looks, it is meant for you!
 
Cleanse Your Pendulum:
You may cleanse it by holding it under running cold tap water, soaking it in sea salt, or setting a mental intention to free it of 'picked up energies.'
 
Understand the Directional Swings of Your Pendulum:
Pendulums swing in vertical straight lines, horizontal straight lines, and in circular movements.
 
Define the Directional Swings of Your Pendulum:
Assign each directional swing a "response" by first asking the pendulum to show you what certain responses look like. Ask: What does a NO look like? What does a YES look like?... and so on.
Pendulum Response Examples:
vertical swing signifies NO
horizontal swing signifies YES
circular movement signifies NEUTRAL

***Size and materials***
The quartz size is about 17x35mm
It comes on a 200mm (8.0 inch) chain with a silver tone owl charm.
Metal alloy, nickel free

It comes gift wrapped. Shipping fee is the same for one or more items so multiple buy is cost effective.

Shipping:
UK: First class, signed for.
International shipping: Signed and tracked or just tracked [Australia].
Depending on countries and time of the year, it may take 10 to 20 days. In some cases it might take longer than this. Since each parcel is tracked, you can follow its progress online.
Learn more about the shop and process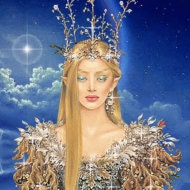 Jezabel
Purple Amethyst Awareness Pendulum with a Moon, Amethyst Pendulum, Yes No pendulum reading, pendulum dowsing, tarot, Amethyst pendulum
---
Overview
Listed on Jan 20, 2017
71 views