In Native American tradition (depending on the nation/tribe) the snake can be a masculine symbol, associated with the phallus of lightning which is considered a medicine staff of tremendous assertive power. Other tribes lean in the direction of feminine attribution for the snake and pair it with mothering (creation), and lunar symbolism
The ancient Celts saw the snake as a magnificent creature. From the Celtic perspective, the snake was a symbol of secret knowledge, cunning and transformation. Shedding it's skin to be reborn.
In Eastern Indian myth the Sanskrit word for snake is naga and these are associated with water. Nagas were the embodiment of nurturing, benevolent, and wise qualities.
Entwined snakes are found on the caduceus, in which the staves of Asclepius are made of two polar (and copulating) serpents which symbolizes balance, equanimity, union and regeneration.

This beautiful bracelet is inspired by the spirit of the snake and is made from solid copper wire.

Viking Knit chain, also known as Trichinopoly chain, first appeared in Scandinavia in the 9th century. It was used for bracelets, necklaces and even for the trim of clothing and other decorative items. I made this from solid copper wire and added copper plated snake heads at the ends. I affectionately call my copper pieces Copperhead Collection after the Rattlesnake. This bracelet is 7/16" thick and measures 9 1/4".
Learn more about the shop and process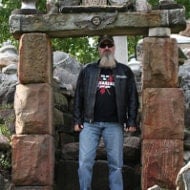 Josh Boeckman
Listed on Jan 2, 2017
27 views