7 chakra necklace meditation necklace Yoga necklace Chakra jewellery necklace Hamsa necklace men necklace chakra mens necklace
$36.88+ $52.68+
You save $15.80 (30%)
Sale ends in 8 hours
You can add personalization details (if applicable) in the note to seller box at checkout or in your cart.
Other people want this.
3 people have this in their carts right now.
---
Item details
Materials
Gemstone
Gemstone: Amethyst
7 chakra necklace meditation necklace Yoga necklace Chakra jewellery necklace Hamsa necklace men necklace chakra mens necklace
~ Chakra bracelet ~ this necklace is handmade with black onyx beads, natural amethyst, lapis lazuli, aquamarine and agate beads, silver plated hamsa hand and silver plated buddha head bead beaded with tiger tail wire.
details:
black onyx beads 8 mm,
amethyst 8 mm,
lapis lazuli beads 8 mm,
agate beads 8 mm,
aquamarine beads 8 mm,
silver plated buddha head bead 20 mm,
silver plated hamsa hand bead 12 mm.
Chakras have only recently become more well-known, with the growth in popularity of yoga and New Age philosophies in general. They are a complex and ancient energy system that originated in India.
Chakra (cakra in Sanskrit) means "wheel" and refers to energy points in your body. They are thought to be spinning disks of energy that should stay "open" and aligned, as they correspond to bundles of nerves, major organs, and areas of our energetic body that affect our emotional and physical well-being.
Each of these seven main chakras has a corresponding number, name, color, specific area of the spine from the sacrum to the crown of the head, and health focus.
~ RED ~
Muladhara or ROOT CHAKRA is symbolised by a lotus with four petals and the colour red. This centre is located at the base of the spine in the coccygeal region. It is said to relate to the gonads and the adrenal medulla, responsible for the fight-or-flight response when survival is under threat. The seed syllable is LAM.
Muladhara is related to instinct, security, survival and also to basic human potentiality. Physically, Muladhara governs sexuality, mentally it governs stability, emotionally it governs sensuality, and spiritually it governs a sense of security. Muladhara also has a relation to the sense of smell.
A blocked root chakra can manifest as physical issues like arthritis, constipation, and bladder or colon problems, or emotionally through feeling insecure about finances or our basic needs and well-being. When it's in alignment and open, we will feel grounded and secure, both physically and emotionally.
~ ORANGE ~
Svadhishthana or SAKRAL CHAKRA is symbolised by a white lotus within which is a crescent moon, with six vermilion, or orange petals. The seed mantra is Vam, and the presiding deity is Brahma, with the Shakti being Rakini (or Chakini). The animal associated is the crocodile of Varuna.
This chakra is located in the sacrum and is considered to correspond to the testes or the ovaries that produce the various sex hormones involved in the reproductive cycle. Svadhishthana is also considered to be related to, more generally, the genitourinary system and the adrenals. The key issues involving Svadhishthana are relationships, violence, addictions, basic emotional needs, and pleasure. Physically, Svadhishthana governs reproduction, mentally it governs creativity, emotionally it governs joy, and spiritually it governs enthusiasm.
Issues with this chakra can be seen via problems with the associated organs, like urinary tract infections, lower back pain, and impotency. Emotionally, this chakra is connected to our feelings of self-worth, and even more specifically, our self-worth around pleasure, sexuality, and creativity.
~ YELLOW ~
Manipura or SOLAR PLEXUS/NAVEL CHAKRA is symbolised by a downward pointing triangle with ten petals, along with the colour yellow. The seed syllable is Ram, and the presiding deity is Braddha Rudra, with Lakini as the Shakti.
Manipura is related to the metabolic and digestive systems. Manipura is believed to correspond to Islets of Langerhans, which are groups of cells in the pancreas, as well as the outer adrenal glands and the adrenal cortex. These play a valuable role in digestion, the conversion of food matter into energy for the body. The colour that corresponds to Manipura is yellow. Key issues governed by Manipura are issues of personal power, fear, anxiety, opinion-formation, introversion, and transition from simple or base emotions to complex. Physically, Manipura governs digestion, mentally it governs personal power, emotionally it governs expansiveness, and spiritually, all matters of growth.
Blockages in the third chakra are often experienced through digestive issues like ulcers, heartburn, eating disorders, and indigestion. It's the chakra of our personal power. This means it's related to our self-esteem and self-confidence.
~ GREEN~
Anahata or HEART CHAKRA is symbolised by a circular flower with twelve green petals called the heartmind. Within it is a yantra of two intersecting triangles, forming a hexagram, symbolising a union of the male and female. The seed mantra is Yam, the presiding deity is Ishana Rudra Shiva, and the Shakti is Kakini.
Anahata is related to the thymus, located in the chest. The thymus is an element of the immune system as well as being part of the endocrine system. It is the site of maturation of the T cells responsible for fending off disease and may be adversely affected by stress. Anahata is related to the colours green or pink. Key issues involving Anahata involve complex emotions, compassion, tenderness, unconditional love, equilibrium, rejection and well-being. Physically Anahata governs circulation, emotionally it governs unconditional love for the self and others, mentally it governs passion, and spiritually it governs devotion.
Blocks in our heart chakra can manifest in our physical health through heart problems, asthma, and weight issues. But blocks are often seen even more clearly through people's actions.
People with heart chakra blocks often put others first, to their own detriment. It's the middle of the seven chakras, so it bridges the gap between our upper and lower chakras, and it also represents our ability to love and connect to others. When out of alignment, it can make us feel lonely, insecure, and isolated.
~ BLUE ~
Vishuddha or Vishuddhi, or THROAT CHAKRA is depicted as a silver crescent within a white circle, with 16 light or pale blue, or turquoise petals. The seed mantra is Ham, and the residing deity is Panchavaktra shiva, with 5 heads and 4 arms, and the Shakti is Shakini.
Vishuddha may be understood as relating to communication and growth through expression. This chakra is paralleled to the thyroid, a gland that is also in the throat and which produces thyroid hormone, responsible for growth and maturation. Physically, Vishuddha governs communication, emotionally it governs independence, mentally it governs fluent thought, and spiritually, it governs a sense of security.
In Tibetan buddhism, this chakra is red, with 16 upward pointing petals. It plays an important role in Dream Yoga, the art of lucid dreaming.
As one would expect, this chakra is connected to our ability to communicate verbally. Voice and throat problems as well as any problems with everything surrounding that area, such as the teeth, gums, and mouth, can indicate a blockage. Blocks or misalignment can also be seen through dominating conversations, gossiping, speaking without thinking, and having trouble speaking your mind. When in alignment, you will speak and listen with compassion and feel confident when you speak because you know you are being true to yourself with your words.
~ INDIGO ~
Ajnaor third-eye chakra is symbolised by a lotus with two petals, and corresponds to the colours violet, indigo or deep blue, though it is traditionally described as white. It is at this point that the two side nadi Ida (yoga) and Pingala are said to terminate and merge with the central channel Sushumna, signifying the end of duality, the characteristic of being dual (e.g. light and dark, or male and female). The seed syllable for this chakra is the syllable OM, and the presiding deity is Ardhanarishvara, who is a half male, half female Shiva/Shakti. The Shakti goddess of Ajna is called Hakini.
Ajna (along with Bindu), is known as the third eye chakra and is linked to the pineal gland which may inform a model of its envisioning. The pineal gland is a light sensitive gland that produces the hormone melatonin which regulates sleep and waking up, and is also postulated to be the production site of the psychedelic dimethyltryptamine, the only known hallucinogen endogenous to the human body. Ajna's key issues involve balancing the higher and lower selves and trusting inner guidance. Ajna's inner aspect relates to the access of intuition. Mentally, Ajna deals with visual consciousness. Emotionally, Ajna deals with clarity on an intuitive level.
Since this chakra is physically located on the head, blockages can manifest as headaches, issues with sight or concentration, and hearing problems. People who have trouble listening to reality (who seem to "know it all") or who are not in touch with their intuition may also have a block. When open and in alignment, it's thought that people will follow their intuition and be able to see the big picture.
~ VIOLET ~
Sahasrara or CROWN CHAKRA is generally considered to be the state of pure consciousness, within which there is neither object nor subject. When the Kundalini energy rises to this point, it unites with the male Shiva energy, and a state of liberating samadhi is attained. Symbolized by a lotus with one thousand multi-coloured petals, it is located either at the crown of the head, or above the crown of the head. Sahasrara is represented by the colour white and it involves such issues as inner wisdom and the death of the body.
Its role may be envisioned somewhat similarly to that of the pituitary gland, which secretes hormones to communicate to the rest of the endocrine system and also connects to the central nervous system via the hypothalamus. According to Gary Osborn, the thalamus is thought to have a key role in the physical basis of consciousness and is the 'Bridal Chamber' mentioned in the Gnostic scriptures. Sahasrara's inner aspect deals with the release of karma, physical action with meditation, mental action with universal consciousness and unity, and emotional action with "beingness."
In Tibetan Buddhism, the point at the crown of the head is represented by a white circle, with 33 downward pointing petals. It is of primary importance in the performance of phowa, or consciousness projection after death, in order to obtain rebirth in a Pure Land.[citation needed] Within this state is contained the White drop, or Bodhicitta, which is the essence of masculine energy.
The crown chakra is linked to every other chakra (and therefore every organ in this system), and so it affects not just all of those organs, but also our brain and nervous system. It is considered the chakra of enlightenment and represents our connection to our life's purpose and spirituality. Those with a blocked crown chakra may seem narrow-minded, skeptical, or stubborn. When this chakra is open, it is thought to help keep all the other chakras open and to bring the person bliss and enlightenment.
As far as stones are natural, it may contains some blemishes and imperfections.
Necklace will come with beautiful gift box.
Ships via Ukrainian Post with tracking number.
Estimated delivery time:
U.S. - 10-30 days
U.K. - 7-15 days
Canada - 14-25 days
European Union countries - 9-15 days ( excluding Italy - 20-25 days )
Australia - 15-30 days
New Zealand - 13-25 days
South Africa - 20 days
Israel - 10-18 days
Japan - 7-12 days
Other countries - up to 25 days.
Unisex bracelets:
https://www.etsy.com/shop/JaneRJewelry?ref=hdr_shop_menu&section_id=16319598
Mens bracelets:
https://www.etsy.com/shop/JaneRJewelry?ref=hdr_shop_menu&section_id=19048668
Womens bracelets:
https://www.etsy.com/shop/JaneRJewelry?ref=hdr_shop_menu&section_id=19051729
Couple bracelets:
https://www.etsy.com/shop/JaneRJewelry?ref=hdr_shop_menu&section_id=17172581
Zodiac bracelets:
https://www.etsy.com/shop/JaneRJewelry?ref=hdr_shop_menu&section_id=18879533
Leather bracelets:
https://www.etsy.com/shop/JaneRJewelry?ref=hdr_shop_menu&section_id=17502347
Back to shop:
https://www.etsy.com/shop/JaneRJewelry?ref=hdr_shop_menu
If you want to change bracelet design or have any questions do not hesitate to contact me.
---
Shipping & returns
Ready to ship in 1 business day
From Ukraine
There was a problem calculating your shipping. Please try again.
Zip or postal code
Please enter a valid zip code
Sorry, this item doesn't ship to
United States
.
Contact the shop
to find out about available shipping options.
Returns and exchanges accepted
Exceptions may apply.
Gift wrapping available
Details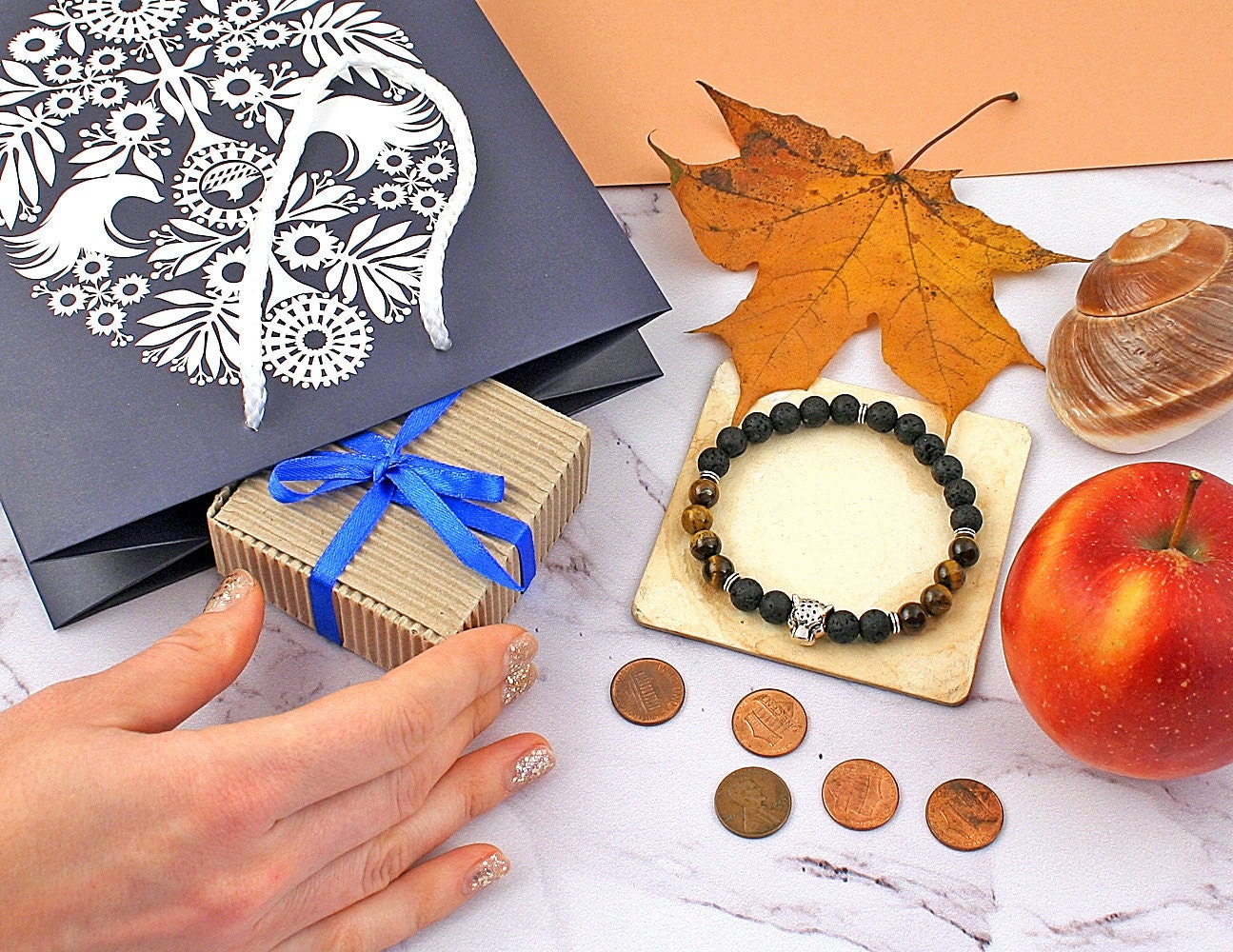 This seller usually responds within a few hours.
I am gladly make custom design for you using natural gemstones - please, feel free to contact me and we can make together your own personalized jewelry
Do not wet pieces which made of silver/gold plated components.
Do not use any cleaners and water.
Do not sleep in your jewelries.
You will receive ready to gift jewelries carefully pack in paper box with satin ribbon.
Please, contact me for wholesale information.
---
Reviews aren't loading right now. Try again later!