Вязаная обувь - балетки для минифи для стопы актив-лайн (5,5 см)!

***
Доставка:
Отправляю покупку в течение 1-3 рабочих дней. Отправление из России службой доставки Почта России. Если Вам необходимо отправление EMS, напишите мне. Покупая товар в моём магазине (из других стран), знайте, что доставка может быть долгой. Ответственность за работу почты я не несу.

***
Внимание покупателям из России!
Я принимаю оплату на карту Сбербанка. Для оплаты пишите личное сообщение.

***
Knitted shoes - ballet shoes for foot Minifee for active-line (5,5 cm)!

***
Delivery:
Sending a package within 1-3 business days. Departure from Russia Russian Post delivery service. If you need to dispatch EMS, email me. Buying goods in my store (from other countries), be aware that the delivery can be long. Responsibility for the work post, I am not.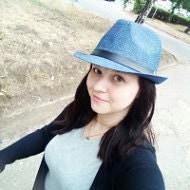 Ellen Nasifullina
Listed on Jan 8, 2017
15 views