A beautiful 8" x 10 color print of our Fairy Treehouse is available for $15.00, printed on archival photo paper. An 11" x 14" color print done on canvas is also available for $35.00. Please contact me if you'd like to order either or both of these prints.

To find out more about the price of our Fairy Treehouse, how to contact us, our other art websites and information about our upcoming book, please read further......

If you are interested in purchasing this fairy house or any of my other art, please contact me at 385-336-6417 or debbieschramer [!at] yahoo.com or you can purchase any of my pieces directly here on my Etsy shop. My husband Mike's Etsy store is at: www.mycyclesart.etsy.com. We also have our nature art at: www.debbieandmikeschramer.com.

Our Fairy Houses were just featured in the New York Times in a very interesting article. It was very exciting to be in such a wonderful newspaper! We did want to clarify one point that was made about the price of our amazing house. We haven't always had it priced at $100,000. In 1995, when it was exhibited for the first time at the American Visionary Art Museum, we placed a value on it of $12,000. Many years later, we had our Fairy Treehouse at the Repartee Gallery in Provo, Utah and it was priced at $35,000. For many years, off and on, we just had the Fairy Treehouse in our home and it wasn't exhibited anywhere else. We showed our house at several large international miniature shows, one in Seattle and one in Chicago, we did art shows and everywhere we went, people told us that we should ask $50,000 to $100,000 for such an amazing, unique creation. So, in the last year, we priced our treehouse higher. Before that, it was listed at $50,000 to $75,000 for several years. We were inspired by the hundreds of people from all walks of life who were touched by our creativity and the amazing art that we fashioned from the beauty and artistry of nature. We worked on making our Fairy Treehouse for 6 months and spent many years collecting the natural materials. It is a very detailed piece and has an incredible spirit about it. It is a tribute to the beauty of nature and the natural art that is in nature itself.

We can make variations of our Fairy Treehouse if you are interested. We can create different kinds and sizes of fairy houses in various price ranges. Please contact us if you would like to commission us to make a wonderful fairy house for you! You can email us here on my shop by going to my contact information. We'd love to talk to you!! You can also see our other nature art website at: www.debbieandmikeschramer.com and Mike's Etsy shop at: www.mycyclesart.etsy.com.

The first photo (from the left) gives you can idea of how tall the Fairy Treehouse is. It is displayed on a small table, but it still quite tall (5 feet!) The second photo is of our Fairy Treehouse in the forest, a beautiful setting for this wonderful natural creation. The third photo shows one of the lovely bedrooms; the fourth photo shows the kitchen and the last photo is of our Nature Art and other works at the American Visionary Art Museum in Baltimore, Maryland at their year long exhibit from 2012 to 2013.

This is the most amazing, magical, intricate work of art. My husband and I created this house in 1993 when we lived in Washington state. We have always loved going for walks in the mountains and by the sea and have collected so many incredible materials from nature over the years. We've always wanted to build our own very unique house (to actually live in) so I think we put many of our dreams and ideas into this house (the first fairy house we made). This house is 5 feet tall and 4 feet wide. It has 14 rooms all completely furnished with little chairs, beds, tables, dishes, books, sculptures, paintings, brooms, shoes, etc., also made from nature. We have used everything in nature you can imagine.....driftwood, branches, roots, vines, twigs, leaves, moss, flowers, stones, shells, seaweed, kelp, leaf skeleton, wild grasses, herbs, pods, the list goes on. We gathered nearly all of the materials we've used in the house as well. It took us 6 months to make this house; towards the end of creating it, we worked 12 hour days quite often. Our Fairy Treehouse was exhibited at the American Visionary Art Museum in Baltimore, Maryland in 1995 for a year and was chosen the 4th favorite work of art out of the 400 artworks in the museum's inaugural exhibit. There is an observatory at the very top with telescopes, a sculpting table and clay, pots to plant flowers, and little chairs. There are stairways that wander all throughout the fairy treehouse; there are rooms that are nearly hidden from view, balconies, window boxes, sleeping hollows, garden rooms, little ladders leading to separate little overhanging rooms and just endless, amazing detail that captivates a person for hours. Even Mike and I still love looking at every detail in this house. It is very close to our hearts; we put so much love and energy into creating it.....all of our dreams of the kind of house we would someday love to really live in. There is a library/music room with books and musical instruments, there is a little children's play room and an art balcony. Endless surprises everywhere. It is truly a dream house!

I would be happy to email you more pictures of the Fairy Treehouse, if you are interested. The pictures I posted here are not the best ones we have; the best pictures we have are too high resolution to post here, but I can email them to you. Also, the shipping costs I have listed here are only estimates. We would have to check on the cost for shipping depending on the area you live in. Please contact us if you are serious about purchasing this house and we will let you know of the shipping cost. We also would be happy to hand deliver the house, if you live in the U.S.
Learn more about the shop and process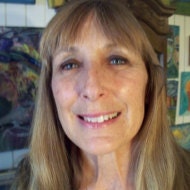 Debbie Schramer
The Fairy Treehouse, Beautiful Creation from Nature, 5' tall, Exhibited at the American Visionary Art Museum, 1995 and 2012, print for 15
---
Overview
Vintage handmade item
Materials:

driftwood, branches, roots, vines, moss, leaves, flowers, pods, shells, seaweed, stones, leaf skeleton, herbs

Ships worldwide from

United States

Feedback: 128 reviews
Favorited by: 4277 people
Shop similar items from sellers around the world