As seen in the Spring '09 copy of Spin Off Magazine!

You sit and try to countinate the number of times your wheel goes around but you can't. It's going too fast, it gets blurry, and besides, it's boring. So you lose count, and and you have to start over, or guess, or pretend you didn't forget to count 6 rotations. There has to be a better way!

And there is! With the Super Revolution Countinator! you can sit back and let the round object rotate at any speed

You can be sure that, through the magiscience of magnetic fields, your Super Revolution Countinator! will mark every rotation with reliability. And you won't hear the horrible click-click-click of the usual rotation counters that make you crazy!

This is the original white model! It's reliable and goes with everything.

*srsly this thing is cool and it WORKS. My husband invented this so I could use it with the electric skeinwinders for my yarn business and it's great!

I've made a video to show how it works:
http://www.youtube.com/watch?v=rwk1-iYV7Vc
(Sorry the audio quality is so bad but it gives you a good idea of how it works anyway!)

CONTENTS

It comes with a pretty little white digital counter that's attached to a sensor, a trigger magnet, adhesive goo strips, small screws and some instructions for installation operation and troubleshooting.

INSTALLATION

The instruction pamphlet included is intended for electric or manual upright skeinwinders but people have also installed this on hand-operated swifts, table-top swifts, and even the metal umbrella swifts from Japan. I have additional tips for those if you need them, just let me know. It's a fairly forgiving installation.

If you have any problems or questions beyond the instructions sheet's abilities, feel free to contact me at noellenoodle [!at] gmail.com and I will do my best to help you out with the installation.

WARRANTY

Limited Replacement Warranty: If the product does not work upon receipt or stops working within two months of reasonable use.

Reasonable in this case meaning keeping it in household temperature range, not throwing it around or letting the dog play with it, or any use for it other than as described. Watch batteries are excluded from the warranty and are available from the local drug store.

SHIPPING

Price for shipping is for US Priority shipping or First Class International Mail. Insurance through my shipping program is included with the price.

These are the countries I have shipped to before and found that they allow electronics to be shipped to them.

Please contact me if your country's shipping is not listed.

France's import laws about shipping items that measure something are vague, at best, so if you understand them please let me know what on earth they mean!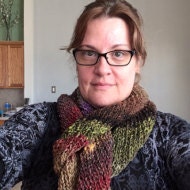 Noelle
On Sale Super Revolution Countinator counts rotations for you
---
Listed on Oct 4, 2011
3631 views