St. Philomena, It is an oil on wood panel of one of my favorite Saints,(I have many). I love this image, she was very young and faced death before renouncing her faith. She was tortured thrown in the sea but remained faithful. Many people seek her intercession and receive many answered prayers.
She is available in a fine art giclee on stretched canvas, the edges are a continuance of the image.
Embellished and signed by me.
This price is for 20x8x.75 size, other sizes are available, contact me for info.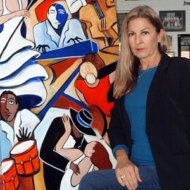 Valerie Vescovi
Listed on Jun 10, 2015
381 views