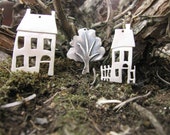 Sorry, this item sold.
Little Sterling Silver House Pendant
Item details

Reviews (89)

reviews

Shipping & Policies
"Little boxes, on the hillside.
Little boxes, made of ticky-tacky.
Little boxes, on the hillside.
Little boxes, all the same.

There's a pink one,
and a green one,
and a blue one,
and a yellow one

and they're all made out of ticky-tacky,
and they all look just the same..."
-"Little Boxes" by Malvina Reynolds, 1962

Can't help it. Every time I make one of these, this perfect little song gets stuck in my head and I sing it the whole time I'm working on them! (If you haven't heard it you should look it up!)

Except mine are all made out of sterling silver, and they don't look the same - but what can you do?

This is a tiny house with an old wooden fence hanging on for dear life. Made from scratch by me, cutting out my hand drawn silhouette onto thick sterling sheet, hand filing some extra dimension onto it, and giving it a soft satin, brushed finish.

House is 7/8" tall from chimney to ground, on a 17" sterling chain.

Packaged in a jewelry gift box and shipped insured priority mail.

* This listing is for the house on the right with the fence, only.