Pug NOSE BUTTER®r to the Rescue! Pugs have some of the ultimate cutest faces in the world of dogs. All you have to do is visit YouTube or BuzzFeed and there will be thousands photos of Pugs being utterly adorable. It would be unthinkable to allow your Pug to be lest than perfect! After 1-3 days of using NOSE BUTTER your Pug will be ready for their closeup!

This listing is for a generous FOUR ounce tin of The ORIGINAL NOSE BUTTER® with your choice of a Fawn Pug, Black Pug or two Pug Puppies on the label in an organza gift bag.

Pug NOSE BUTTER®, the original and trademarked NOSE BUTTER® dry dog nose treatment for your dog is individually handcrafted (by my team and me - Kathy) here in far northern Minnesota using all organic and natural good stuff - shea butter, olive oil, castor oil, castor oil, avocado oil, almond oil, coconut oil, beeswax, cocoa seed butter, just a dash of essential oils and a LOT of LOVE. Every item is tucked into a gift bag with complete directions, tips and hints included.

LIGHTLY SCENTED: Our classic NOSE BUTTER® has a dash of essential oils (Cedarwood, Cypress and Ylang Ylang), but unless you have an very sensitive nose, you will probably not notice it at all.

UNSCENTED VERSION: While we totally believe in the energetic healing properties of the dash of essential oils we use, we honor that some of you may prefer a completely unscented version. Select your choice in the dropdown menu.

If your dog does not like being controlled and held tightly give them a cookie to distract. I always say it is like putting pantyhose on a drunk man to do something to a Pug that it does not want done. Not that I ever put pantyhose on a drunk man.

WHAT THE HECK IS THAT STUFF ON MY PUG'S NOSE?

Probably not food, dirt, bad genetics or anything you did or didn't do that you should have (did that make sense?). While your Pug may have a bit of regular dryness on their nose (which NOSE BUTTER® will take care of easily), if it is more of a crust or looks like an oyster shell or tree root, your dog may have Nasal Hyperkeratosis aka crusty nose crud.

Nasal Hyperkeratosis is an idiopathic condition (scientific jargon for they don't have a clue where it comes from ¯\(°_o)/¯ ) that results in a protein or keratin overgrowth (keratin-more jargon) on a dog's nose and/or paw pads. This protein overgrowth is often seen in older dogs, dogs with certain illnesses or on some medications.

Plus, certain breeds or breed types (mixed breed dogs get this too) seem to have a genetic predisposition to the condition. Bully breeds, flat-faced dogs, toy breeds, the mastiff types and anything with a chunky body type seems to be more likely to have this condition.

Nature tells our dogs to keep their nose moist and pliable, as the moistness acts like a scent gathering flypaper for dogs, catching all the scent particles that give our dog's info. If their nose is dried out, they lick it and just like us licking chapped lips, it creates an even bigger problem.

HOW TO APPLY NOSE BUTTER®

Tin - Dab a bit, appropriate for their size nose, across the top of the nose
Tube - Point away from eyes and swipe across nose
Apply 2-3x a day for 2-3 days until nose is smooth
Then use as needed for maintenance (1-3x weekly on average)

DISTRACT & DIVERT

NOSE BUTTER will not harm your dog if they lick any off (or eat the whole tin-it has happened!), but we want it to soak in and get its job done. To keep your dog from licking NOSE BUTTER off try the following:

Give a cookie or treat before and after application (added benefit - they soon associate NOSE BUTTER with yummy treats)
Feed dinner (extra yummy)
Play a game
Go for a walk

FOR EXTREMELY DRY, CRUSTY, CRACKED NOSES

Apply 2-3x a day for 2-3 days
Test crusty area with tissue
If crust crumbles off drop back to maintenance application
If crust does not easily crumble off continue application 2-3x a day for 2-3 more days
Repeat test
Then use as needed for maintenance (may be daily for senior or compromised dogs)

ODDS & ENDS

NOSE BUTTER in the tin and the tube is same product, just different containers
NOSE BUTTER will do no harm if your dog licks some and swallows it (or eats the whole tin)

PUG FACTOIDS

Pug Bits: The phrase "multum in parvo" means "a lot of dog in a small space" which is often used to describe the Pug. Even-tempered, playful, fun-loving, and an all-around great dog is the perfect synopsis of this delightful dog.

Pugs Names: Pugs are called a variety of names..here are a few!
France: Carlin
Italy: Carlino
Germany: Mops Hund
Holland: Mopshond
Spain: Doguillo
China: Lo-sze & Ha Ba Gou (ancient era)
England (years past): Dutch Pug

Pug History: Pugs are an ancient breed, with evidence of them before 400 BC. Like so many other breeds, they were bred by Buddhist monks in Tibet. When Prince William II became the King of England they became even more popular, as his love for them was boundless. In 1572, a pug named Pompey saved William, then Prince of Orange by barking when the Spaniards appeared at Hermigny.

Napoleon's wife, Josephine, also had an adored Pug as a pet. His name was Fortune and he bit Napoleon on their wedding night. Fortune redeemed himself by carrying secret messages to Napoleon while Josephine was imprisoned at Les Carmes.
Queen Victoria owned and loved many Pugs throughout her long reign. She actively bred them and even had them exhibited. The Duke and Duchess of Windsor were also famed for their love of Pugs.

Reviews and Testimonials

Rave reviews are the best testimonial that our products really DO work we can share with you. Here are just a very few of the hundreds we have received.

Dogue de Bordeaux Nose Butter Review - I just wanted to say how delighted I am with your products for my boy Logan. The packaging is delightful and it was shipped promptly over to England without a problem. But most importantly the Nose Butter has restored his nose to be lovely and soft and the RELAX oil is really calming. He has had some anxiety lately after a car accident and his aromatherapy massages are really calming! Thank you –Kate M. and Logan xx

Help for Hyperkeratosis- Consider me a Nose Butter evangelist! I am sharing this with all of my contacts. Two vets offered little to no help for the Hyperkeratosis on my Heeler's nose. It had expanded to cover her entire nose. This is the transformation we have seen using Nose Butter twice a day for one week! –Amanda

Delighted Cavalier Mom in Australia - Oh. My. Goodness. I was absolutely not expecting anything to fix my poor Jasper's nose, but after 2 days, all the crusty scabby yuck fell off (gross) and he is now sporting a brand new shiny nose. Thank you SO much. Best product EVER!! –A.S. in Australia

Happy Boxer Mom - Hello! I just wanted to thank you for your amazing nose butter! My boxer has had a really bad cracked and crusted nose. I looked up what I should do and came upon your website. I ordered the tube for boxers…and within three days his nose was back to normal! Thank you so much! –Amy

Delighted Pug Lover - I just wanted to say thank you for making this product! I have tried everything for my pugs dry cracked yucky nose and nothing ever worked. I have only applied the product twice and the difference is absolutely amazing. Her nose looks so much better in just one day. I can't wait to see it after a week! So thank you again for this product, you have made my dog beautiful again!!! I'll definitely be recommending this to everyone I know and I'm sure ill be buying more. –S.B.
Learn more about the shop and process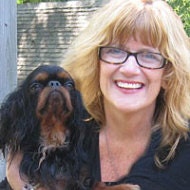 Kathy Dannel Vitcak
Pug ORIGINAL NOSE BUTTER® All Natural Salve for Dry Dog Noses 4 oz. Tin Your Choice of Fawn, Black or Two Pug Puppies Label in Gift Bag
Overview
Handmade item
Materials:

organic shea butter, organic almond oil, organic beeswax, organic avocado oil, organic cocoa seed butter, organic castor oil, organic olive oil, organic coconut oil, dash of essential oils

Made to order
Ships worldwide from

United States

Feedback: 2944 reviews
Favorited by: 36 people
Listed on May 19, 2016
921 views