Some things seem more obvious than they are. In fact, bear believed that everything is infinitely complicated due to things being so tightly interconnected to each other that extracting a single phenomena is just not possible.
Bear enjoyed conversations on this and other slightly more advanced topics a lot. And his friend rabbit who lived in bears neighborhood joined the bear for some tea ever now and then and then they would drink the tea and lift the heavy-weight questions of existence.

"Who are you?" bear asked his neighbor rabbit at one of these occasions.
"I am your neighbor, rabbit" rabbit replied
"Yes, i know that you are my neighbor rabbit. But what a rabbit is?"
"A rabbit is a highly intelligent living being with four paws and two long ears" rabbit replied
"Aren't dogs highly intelligent living beings with four paws and two long ears too?" bear wondered
"They indeed are, but they have slightly shorter ears"
"Do all of them have slightly shorter ears or does it differ?"
"The size of ears differs from dog to dog"
"Would it be possible then that a rabbit is a kind of dog?" bear tested
"It would be possible indeed, just as much as a bear being a dog. Because if you look at it, a dog is a long legged long tailed bear with bigger ears"
"But owls, they certainly can't be rabbits" bear asserted
"Owls are birds and we are animals, so no, i'm afraid owl can not become a rabbit" his discussion partner replied
"But what if owl would learn how to properly cook. Wouldn't she then me quite close to a rabbit?"
"She would also have to learn how to live under ground"
"But what if she would"
"And how to hop"
"And if she would learn that too?" bear wondered
"So you are now asking, what would it take for an owl to become a rabbit? Or are you asking about our distinctive features?" rabbit asked
"I think i'm still asking who you are. Maybe not so much how many legs you have, but more of what we are doing here" bear explained
"I see" looking for an answer saw the rabbit, "first of all, we are here reflecting on our purpose"
"The act of reflection sounds quite purpose full"
"The purpose would be to determine the purpose"
"Or in other words, we are, because we have to?" bear rephrased.
"You might well say so" agreed the rabbit.
The bear held a little pause but then both animals burst into laughter. The discussion had certainly ventured off the initial target. And truth be told, there was no real target. Mind can be exercised without purpose. And a well exercised mind is sharper than a well sharpened pencil. It can draw images beyond imagination, and reflect about the outside from within. Another paradox, perhaps one of the bear's favorite ones.


-----------------------------------------------
Bear is about 3 inches tall and weights around 30 grams (~1 ounce).

Meet
the

owner

of

ememem Learn more about the shop and process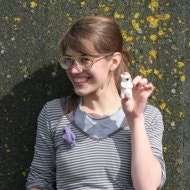 Emīlija Lielā
A pink bear with crystals in paw, brooch
---
Overview
Materials:

wool, safety pin, swarovski crystals

Ships worldwide from

Ireland

Feedback: 514 reviews
Favorited by: 19 people
Listed on Dec 26, 2010
1510 views